Hy-Line Customers Benefit from New Technical Services Support
LATIN AMERICA & SE ASIA - In the continuous effort to better serve customers, Hy-Line International has added locally-based resources to greatly enhance the company's ability to provide effective technical services in the Latin American and the Southeast Asian regions.
The addition of Dr Daniel Valbuena allows for focus on the Latin American markets while Mr Tin Phung joins the team with responsibilities for Southeast Asia. The local presence of these individuals allows Dr Douglas Grieve, Director of Global Technical Services, and his team to provide wider dissemination of the department's advice and knowledge base to customers in these areas.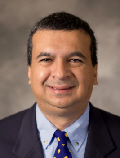 Dr Daniel Valbuena
Daniel Valbuena, Technical Services Manager for Latin America, focuses on visiting customers to assess current management programs and explore opportunities for improvement. Daniel comes to Hy-Line from Avicol S.A., the Hy-Line distributor in Colombia. Daniel is a Doctor of Veterinary Medicine and Zootechnician from the University of Tolima, Colombia with 20 years of direct field experience assisting egg farmers achieve and exceed Hy-Line standards for the Hy-Line Brown and W-36 commercial layers in the competitive Colombian and Ecuadorian markets. Daniel brings a wealth of knowledge to the Hy-Line team in pullet management for optimum body weight gain and 'on the farm' know-how to troubleshoot the common challenges experienced by producers in Latin America.

Tin Phung
Tin Phung started in July 2013 in his role as Technical Services Manager to the Southeast Asia region for Hy-Line International. His key competency is effective breeder management, specifically with the Hy-Line Brown, as he joins the Hy-Line technical team after spending several years managing the grandparent and parent stock successfully for Hy-Line Australia. The Australian breeder operation routinely achieves above standard results and Tin is now sharing this knowledge with the important Southeast Asian market. He has a Bachelor's of Agricultural Science from the University of Melbourne and is based in Australia. He will be of special assistance in the growing Vietnamese market due to his language skills. Tin is assisting Regional Business Manager, Ron Gooi, to support Hy-Line customers in the region to optimise the performance of the Hy-Line varieties in the region.
Hy-Line International's Director of Sales and Marketing, Tom Dixon, said: "As the largest layer genetics supplier in the world, the links between Hy-Line International and these growing markets are important. As we expand our presence in these markets, we want to ensure our customers have the expertise and experience to maximize the benefits offered by Hy-Line layers."