Successful Symposium Celebrates Romanian Anniversary
ROMANIA - Big Dutchman poultry and pig equipment has been sold in Romania for the past two decades. This significant milestone was the reason for a celebratory symposium held recently in Sibiu.
Many successful Romanian livestock owners have trusted Big Dutchman poultry and pig equipment in the past 20 years. This significant figure was recently the reason for a celebratory symposium in the Transylvanian city of Sibiu.
Approximately 130 attendees followed the invitation of the world's leading equipment supplier and looked back on the past two decades. Experienced employees coming from Big Dutchman headquarters in Germany also attended the symposium and presented the newest trends and technologies poultry production and pig production.
"The event was all-around positive! We were especially happy that many of our old companions were able to be here", was Dieter Hempelmann's final statement. Managing director of Big Dutchman for many years, Mr Hempelmann established successful sales and distribution to Central and Eastern Europe and still advises the company today.
The symposium schedule was custom-made for poultry and pig managers. Both focused on profitability and animal welfare. Even though the schedules were tight, attendees had sufficient time to share anecdotes and memories from the past two decades of German-Romanian co-operation.
Change is the Only Constant
And there were many things to share, considering the fact that Romanian livestock keepers moved from a planned economy to a market economy – a difficult phase in poultry production and pig production, as Big Dutchman employees can testify. They always provided the Romanian business people with help and advice during these trying times.
"Today, the support we give is quite different," current Big Dutchman managing director, Michael Brinkmann, stated. Not only the political and economic system has been turned upside down in the past twenty years, but Romania's accession to the EU also brought with it modified regulations regarding poultry production and pig production. "The demand for Big Dutchman technology and knowledge is thus still very high," explained Mathias Kreinberg, Sales Manager for poultry equipment.
Poultry Production in a New Light
Mr Kreinberg can tell from experience and gives an example: EU-wide, enriched systems have replaced traditional laying batteries for egg production. The equipment supplier has actively accompanied the development of these systems from the very beginning.
"Big Dutchman was able to provide a well-proven management system and comprehensive experience from practical use at the moment of change in Romania," said Mr Kreinberg. Egg producers value this fact, as evidenced by the symposium attendee's great interest in the Big Dutchman Eurovent EU system.
The poultry equipment supplier has been providing systems for alternative layer management for more than 25 years. Especially successful: the Natura laying aviaries, in addition to the single-tier manure pit systems. Big Dutchman's product range now includes an impressive number of 20 different aviary types. But Big Dutchman can do more than that: the company provides poultry managers with customised and integrated concepts.
"Whether an old or a new building, whether the farmer decides to keep his laying hens on the floor, in free-range systems or organically, we can offer a flexible Natura solution for nearly all ideas and with ideal stocking densities," Mr Kreinberg added.
The presentations given by Big Dutchman experts on the topic of saving energy by using the Earny heat exchanger and an LED lighting system were also very popular.
The pig managers' part of the symposium focused on BigFarmNet, a new technology for the control and management of pig houses, as well as questions regarding the future of pig management.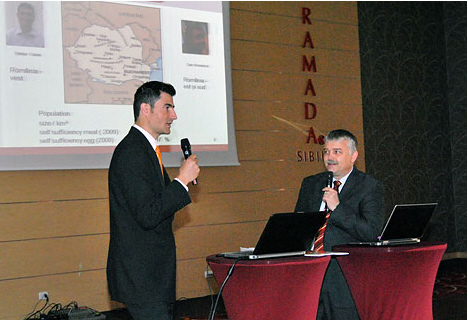 Poultry systems for efficient poultry production: Michael Brinkmann (right) and Stefan Gabel, sales representative of the equipment supplier from Sibiu, described their practical experiences.