Nutreco Optimises Animal Nutrition with NutriOpt
SPAIN – Nutreco, leading animal nutrition company, held a three-day event in Madrid to present their new vision on poultry nutrition. NutriOpt is their new package of tools and services to help optimise animal nutrition in an era of raw materials scarcity and price volatility. Nuria Martínez Herráez, editor for ThePoultrySite, reports.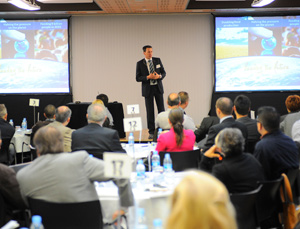 From 14th to 16th October, Nutreco hosted a conference in Madrid (Spain) with poultry producers and integrators from all over the world to share and discuss the company's new vision on poultry nutrition.
On Monday, some of the attendees had the unique opportunity to enjoy a tour around Nutreco's Poultry Research Centre in Casarrubios del Monte (Toledo). Twan van Gerwe, PhD poultry researcher and Manager of the centre, provided an insight on poultry research to the visitors by explaining the methodology they used.
The tour offered the visitors the opportunity to see breeder, broiler and layer houses along with Nutreco's own feed mill; all of them aimed at researching new feed technologies that help the poultry industry make the most of the available resources. Moreover, Nutreco's experts guided the visitors and discussed the on-going research and the day-to-day activities at the centre.
On Tuesday morning, Nutreco's experts offered the attendees several presentations on nutrition and its crucial role in meeting economic and sustainable targets in the poultry industry.
During the morning session, Bert van Gils, Nutritional Technology Manager at the Nutreco Application and Solution Center in the Netherlands, presented the new innovation of the company to help optimising animal nutrition: NutriOpt, nutrition by the numbers.
NutriOpt
NutriOpt is an integrated package of services and tools to optimise animal nutrition through precise real-time analysis, modelling and calculation.
NutriOpt, as a fully integrated system, includes NIR measurements, animal models, economic models and Nutrix (a nutritional profile that uses dynamic equations, based on over 50 years of research, to map nutrient content and digestibility to deliver a more detailed performance insight).
In addition, NutriOpt is designed to be used along with nutritional add-ons, such as split-feeding or feed structure optimisation, allowing the producers to enhance animal performance and reduce costs through increased efficiency.
Dr Ángela Gutierrez del Álamo Oms offered the audience an insight about how the animal models work for the poultry industry in NutriOpt. Specifically, she addressed the broiler model from a production performance perspective on Tuesday and from an economic perspective on Wednesday in order to make the attendees understand how modelling broiler life can optimise animal performance and cost-effectiveness.
The Tuesday afternoon session comprised different presentations about Nutreco's innovations in poultry nutrition, such as the improvement of the gizzard function in broilers presented by Dr Adam Sacranie or the split-feeding concept for layer hens, presented by Jon de los Mozos, Msc.
Maarten van der Heijden and Thijs Berkers from Selko Feed Additives discussed some interesting feed additives that help improve the health of broilers.
On one hand, the use of feed additives, such as Presan or Selko-pH, was shown as a way to improve gut health in the birds. This leads to an improvement of the litter quality. A good litter quality helps to maintain foot pad health and breast skin integrity.
On the other hand, feed additives can also help to reduce the incidence of zoonoses, more specifically Salmonella. The nutrition experts explained that the use of feed additives such as Selko-pH and Fysal Fit-4, combined with an optimised hygiene and good management, can lead to a reduction of the incidence of these bacteria in the poultry industry.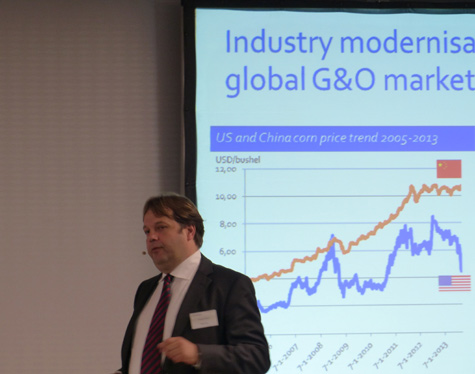 Rabobank's Nan-Dirk Mulder
Rabobank Outlook
During the Wednesday session, Nan-Dirk Mulder, Associate Director for Commodities, Feed and Animal Protein at Rabobank, gave a comprehensive outlook of the current and future scenarios for raw materials. He highlighted that volatility in grains and oilseeds would continue increasing and discussed the big footprint that biofuels had on grain and oilseed markets.
According to Mulder, the ability to deal with high and volatile feed prices is seen as a key success factor that can be achieved through efficiency, market power, value chain management and risk management.
Dr Ruud Eits, Business Developtment Manager at Trouw Nutrition Hifeed, shared with the attendees some specific cases in different continents where Nutreco applied their knowledge and know-how to serve their customers in achieving their production targets.
Throughout the two-day conference, the attendees had a chance to provide their feedback and concerns in three breakout sessions in which they discussed some questions about nutrition, economics and sustainability. The ideas shared in the different groups were summarised and discussed by a panel of Nutreco researchers and Nan-Dirk Mulder, from Rabobank at the end of Wednesday morning as a closure for the event.