Celebrating 50 Years of Reproductores Cobb in Argentina
ARGENTINA - Leader in the country's broiler breeder market, Reproductores Cobb held a special event to mark the 50th anniversary of the partnership between Cobb-Vantress Inc. and Granja Tres Arroyos.
Gustavo Wassermann, operations manager for Cobb-Vantress Brasil said: "We cannot speak of poultry business in Argentina without talking about Joaquin De Grazia, chief executive officer of Granja Tres Arroyos."
"Our partnership with Granja Tres Arroyos assures us leadership in Argentina where Reproductores Cobb holds an 80 per cent share of the open market."
More than 150 guests attended the celebration event at Sam Nicolas on the Parana River, organised by Reproductores Cobb, which handles distribution of Cobb products throughout the country.
Among those taking part were Jerry Moye, president of Cobb-Vantress Inc, Jairo Arenazio, director general of Cobb-Vantress Brasil, Rodrigo Terra, product manager for Cobb-Vantress Brasil, and Frank Siewerdt, Cobb-Vantress geneticist in the United States.
Speakers at the event included Carlitos Paez, one of the survivors of the 1972 plane crash in the Andes, and the economist and journalist Thomas Bulat, who spoke about the positive outlook for the poultry industry and agribusiness in South America.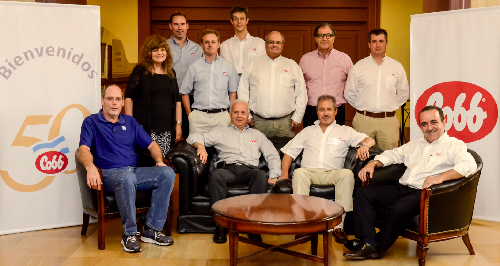 The event brought together the leaders of Cobb in South America and the United States with Reprodutores Cobb of Argentina