Pas Reform Appoints New R&D Manager
THE NETHERLANDS - Pas Reform has expanded its Research & Development team with the appointment of Edwin Tinnevelt to the position of R&D Manager.
Based at the company's Zeddam headquarters in The Netherlands, Mr Tinnevelt brings more than 25 years of experience in manufacturing, design and engineering to the post, with specialisms in software systems engineering, mechatronic project engineering and project management.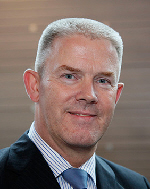 Edwin Tinnevelt
Prior to joining Pas Reform, he worked with VMI Holland, where he was Manager Standardization and Vice President Order Engineering.
In his new role, Mr Tinnevelt will manage Pas Reform's full team of hardware, software, electrical and mechanical engineers. He will also have responsibility for implementing technical policies and developments, supporting production and procurement for customer-level projects, and for the introduction of new products and processes.
Working in close collaboration with Pas Reform Academy and its directorm Dr Marleen Boerjan, Mr Tinnevelt will drive the long-term translation of market needs and developments into concrete product innovations. With technical responsibility for Pas Reform's entire product range, he will also be responsible for continuously improving the quality and efficiency of processes within the company's Research and Development teams.
Commenting on his appointment, Mr Tinnevelt said: "As a sector experiencing high levels of product development and receptive to new technologies, the focus is on enhanced performance and return on investment. Access to the latest scientific studies and proven knowledge-base make this a very exciting role that works at the forefront of emerging hatchery technologies."
Pas Reform's CEO, Bart Aangenendt, welcomed him, saying: "The company is evolving to support continuing international growth and I am very pleased that Edwin has joined us at this critical time.
"With his broad range of technical, product development and managerial experience, he will contribute significantly to the further definition of Pas Reform's market presence, by working with our scientists, engineers and product developers to drive the stream of innovation and product enhancement that Pas Reform customers expect."
Edwin Tinnevelt can be contacted directly on +31 622 540 759 or by email [email protected].