Swedish Visits Spurs Russia to Even Higher Breeder Performance
RUSSIA - Farm managers from the Russian broiler producer Chelny were given an insight on a visit to Sweden into how the Cobb-Vantress, Inc. Scandinavian distributor Blenta achieves some of the top breeder results in Europe.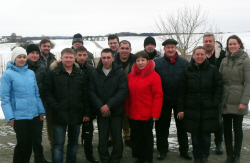 The visitors from the Tartastan region – already averaging 136 chicks / breeder – were eager to learn more to improve further the performance of their flocks under similar climatic conditions to Sweden.
"Looking at the genetic potential of Cobb500 we've seen here in Sweden, this will stimulate us to strive for better results," said Timur Khusnullin, Chelny breeder farms manager. "Being one of the best breeder farms in Russia does not mean we can't improve going forward."
"Blenta has very good production numbers in breeder flocks, peaking at more than 95 percent," said Patrick van Trijp, Cobb account manager for Russia. "Showing the hatchery, rearing and production farms gave the young managers of Chelny Broiler an excellent understanding where and how to improve.
"I'm very proud on the way Chelny has progressed, starting with breeders from scratch just four years ago. They've shown that working with the Cobb500 it's not difficult to achieve and maintain good results. Together with the help of our technical manager Irina Khamatshina, they've managed to become one of the top three in Russia in terms of production and hatchability".
Blenta also benefited from the visit. Torbjörn Persson, general manager of Blenta, stated: "We found the remarks and questions from this group, and their analysis very beneficial. Looking at our organization from a different angle is always refreshing and helpful".