Lincolnshire Egg Supplier Raises Money to End Hunger in Africa
UK - A family-run egg supplier from Lincolnshire has taken on one of the greatest challenges in its 63-year history: a climb to the summit of Africa's highest mountain, Mount Kilimanjaro.
LJ Fairburn has faced some pretty demanding tests since it was founded in 1951 by Leslie James Fairburn with just £150 and 150 chickens to his name.
But the Lincolnshire company that has evolved into one of the UK's largest suppliers of fresh eggs has now decided to reach new heights - quite literally.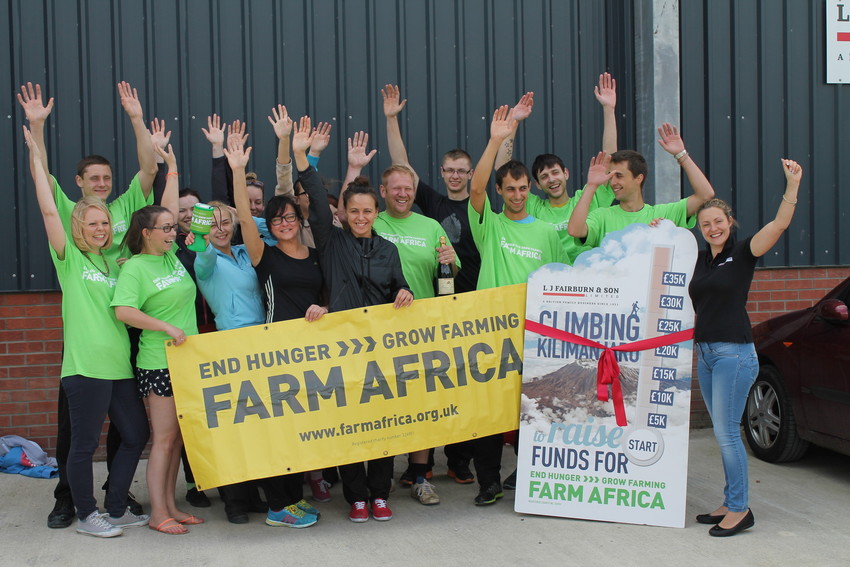 At the end of August, Mr Daniel Fairburn, grandson of LJ Fairburn and Managing Director of the business, will fly out to Tanzania with eight other climbers from the business and their suppliers.
The team is aiming to raise a staggering £35,000 in sponsorship for Food for Good, a campaign set up the food and hospitality sectors to support Farm Africa. The campaign has already raised over £750,000 for Farm Africa, a charity working to end hunger in eastern Africa by helping smallholder farmers there to grow more food for their families.
Getting to the summit of Kilimanjaro, also the world's tallest freestanding mountain, is not for the faint-hearted. Its permanently snow-capped summit towers 5,895 metres above sea-level - six times higher than Scafell Pike, England's highest mountain.
Getting to the top is the equivalent of scaling Big Ben a staggering 61 times. And before they get there, the team will have to brave some pretty daunting conditions, sleeping under canvas on bare mountain paths for six consecutive nights. The approach to the summit will be especially demanding.
Already exhausted, they will have to set off at midnight in oxygen-thin air for one final six hour push. And as they reach Uhuru Peak they will be scrambling over loose boulders and up paths that are almost vertical at times.
Explaining his excitement at bringing a team together for the climb, as well as getting everyone at LJ Fairburn behind the challenge, Mr Daniel Fairburn said: "Challenges don't come much bigger than climbing Kilimanjaro. We're doing it because we recognise that hunger is one of the most pressing problems facing the world today. As someone involved in food production, I understand the importance of sustainable food supply. And that means helping to build an Africa that can feed itself.
"So I'm especially proud that LJ Fairburn is doing its bit to help the food industry raise funds for 'Food for Good' which is doing so much to support Farm Africa and its amazing work to end hunger."
And welcoming LJ Fairburn's announcement of the Kilimanjaro Climb, Farm Africa's Corporate Fundraising Manager, Penny Ruszczynski, said: "We're thrilled that LJ Fairburn has become the latest British food company to show a very real commitment to ending hunger in Africa. On behalf of all the smallholder farmers we are working with in eastern Africa, I'd like to extend our heartfelt thanks to each team member for taking on such a daunting challenge as climbing Kilimanjaro and for working so hard to raise such an impressive total."
The LJ Fairburn Kilimanjaro Climb team
The team is made up of LJ Fairburn employees, contractors and suppliers. The full team is:
Daniel Fairburn, LJ Fairburn
Adrian James, Vencomatic
Annie Hood Propview TV
Gareth Lang Propview TV
Shane Gravestock Propview TV
Aitor Echeverria Insausti Conexpak
Sam Davison Vencomatic
Egle Kalinauskaite LJ Fairburn
You can find out more about Food for Good and the LK Fairburn Kilimanjaro Climb here: www.farmafrica.org/lj-fairburn-kilimanjaro-climb/.