CME: Lack of Growth in the Broiler Sector
US - The lack of growth in the broiler sector has supported pork and beef markets all this year but that support — or at least the degree of that support— may be coming to an end, writes Steve Meyer and Len Steiner.
Virtually every market observer had expected a rapid increase in broiler production this year as feed costs fell and broiler companies took advantage of the short reproductive cycle of the chicken.
That expectation was quite justified in light of broiler breeder flock increases last fall that ran consistently between four and five per cent, year on year, from August through November. The larger flock did produce more eggs to place in incubators but the increase was surprisingly small only 2.8 per cent more than one year before.
That may sound like a healthy increase but the first three quarter of 2013 saw egg sets increase by 2.4 per cent even before the sharp increase in the breeder flock. Conclusion: The larger flock was encountering some productivity challenges. And that was not the end of it.
As can be seen at top right, the number of chicks placed per egg set also fell sharply relative to the five year average in September 2013. Note that this ratio would account for reductions in both hatchability and chick survival. USDA publishes a weekly hatching percentage in the narrative of its Broiler Hatchery report but it is always listed as a whole number and thus shows very little variability.
That figure, however, dropped from 85 per cent for virtually every week in 2012 to 84 per cent for virtually every week of 2013 to 83 per cent for all but one week so far in 2014. Our computed placement to set ratio did not drop until last fall but remains well below average in recent weeks. We never heard of a specific cause, such as the 1990's J virus, of this decline.
And then breeder flock growth slowed to a crawl this year with "good" months seeing only two per cent increases, year on year, and April, May and June seeing less than one per cent year on year growth.
We understand that these slower growth rates were the result of continuing productivity challenges in grandparent flocks which had aged somewhat due to reductions in 2012. Continuing sales of fertilized breeder eggs to Mexico were also a factor.
All of this has begun to turn, however, in recent weeks. Egg sets have been consistently larger than one year ago since early July and those increases have been growing; exceeding three per cent for two weeks in early September and five per cent for the week ending 3 October.
Not surprisingly, those increase have resulted in higher broiler slaughter and production since early August. The year on year increases are modest by broiler industry standards but consistent growth is the new norm it appears.
Year to date broiler output is still up only 0.3 per cent from last year's levels but the past four weeks have averaged nearly three per cent more broiler output. And there is an underlying expansion story to be told even in these numbers.
The bottom chart shows the weekly average dressed weight. Note the steady year on year increases since July with the average of the past four weeks being 3.2 per cent. As we have noted many times in DLR, the US broiler industry is really two industries one producing large (seven-nine lb.) birds for boning and processing, the other producing three-four lb. birds for parts. Yes, there are some in between but these are the industry's norms.
This growth in average weights suggests larger boning bird output — the very sector we would expect to move into expansion mode first has picked up this fall. And the increases fit with what we hear is happening as broiler companies finally capitalise on lower costs and high priced competition.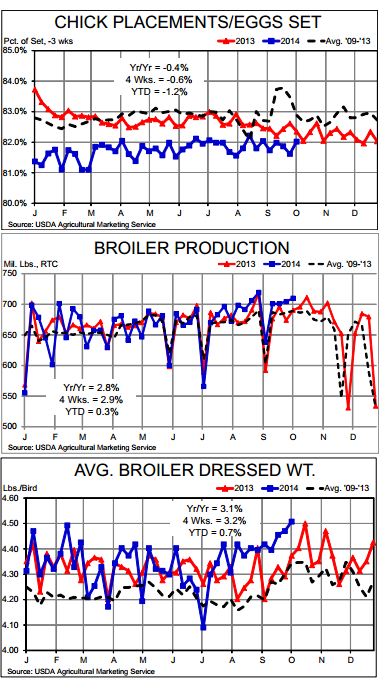 Further Reading
You can view the full report by clicking here.