British Free Range Egg Producers Association Hands out Awards
UK - This year's Free Range Awards were handed out to businesses, individuals and producers who have made a positive impact on the sector in the past 12 months.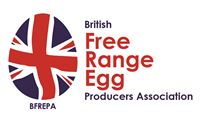 Sainsbury's took home the coveted Retailer of the Year crown while the family-run Lakes Free Range Egg Company in Cumbria won the Food Business of the Year title.
The Happy Egg Company took home the marketing initiative award for its work on organic eggs. Breakthrough of the Year was won by Longhand Isotopes.
James and Margaret Baxter from Dumfries and Galloway won Producer of the Year in the '1-5 years in business' category while Midlands-based Anthony and Lorna Gaden won the equivalent award for older businesses.
There was also a lifetime achievement award for Terry Ellener, the retired technical consultant at Hy-line UK.
Myles Thomas, chairman of the award's organisers the British Free Range Egg Producers Association, said: "It's important that we highlight those who are really committed to free range eggs, whether that's actually producing them or supporting those who do.
"Customers who choose free range do it because they believe in the way we produce eggs so it's our job to ensure that we recognise excellence within our industry as they are the ones who will keep driving free range forward."
Sainsbury's, the largest seller of free range eggs, was recognised for a number of impressive commitments to the industry. The retailer's 20:20 sustainability plan actively seeks out producers with high welfare credentials and also hosts an egg development group. Judges noted television adverts promoting free range and a drive to get to know its farmer suppliers.
Sue Lockhart, Sainsbury's head of agriculture said: "It's an honour to be acknowledged as retailer of the year by BFREPA. It recognises the importance that Sainsbury's places on building stronger, long-term relationships with our farmers and suppliers.
"We continue to work with our development group farmers to deliver benefits from farm to our customers and to make sure that our supply chains are producing the best value, right quality eggs produced in a way our customers would expect."
Top-class producers are always honoured at the award ceremony and there were two worthy winners again in 2014. James and Margaret Baxter manage 48,000 birds at Glenhead Farm in Scotland and were praised for their excellent record-keeping, strong welfare focus and continual business investment.
Anthony & Lorna Gaden of Willow Farm near Stratford-upon-Avon have more than doubled the size of their business since 2003. The design of their units encourages birds to roam freely across the range and they maintain excellent levels of bio-security. An attention to detail delivers high audit scores, and their birds reward them with results consistently above breed target.
The Lakes Free Range Egg Company was described as a progressive family food business by the judges while the Happy Egg Company's expansion to supply the organic market was also applauded.
Longhand Isotopes was commended for working with BFREPA to build up an isotope library for free range eggs and increasing awareness of the technology within the industry.
This year's Lifetime Achievement Award winner Terry Ellener has devoted his working life to poultry – from a schoolboy farm worker in Suffolk to sales director and technical consultant for Hy-Line UK.
The judges praised his work to support free range producers over the past 30 years and the influence he had on how laying flocks are managed in all systems today.
Further Reading
Go to our previous news item on this story by clicking here.