More Outbreaks of Avian Flu in Taiwan
TAIWAN - There have been several further outbreaks of highly pathogenic avian flu in Taiwan, of both the H5N8 and H5N2 serotypes.
Six new outbreaks of the H5N2 serotype have been confirmed in Yunlin, Pingtung and Changhua counties.
There were 25060 deaths from this serotype of the disease in these outbreaks, out of a susceptible population of 64498 on the affected farms and in one abattoir. The rest of the birds were destroyed to prevent the disease spreading.
Most of the outbreaks affected chicken farms but one of the farms held a flock of geese.
These farms and abattoir have been put under movement restriction. Thorough cleaning and disinfection have been conducted after the stamping out operation.
Surrounding poultry farms within 3 km radius of the infected farms and abattoir are under intensified surveillance for 3 months.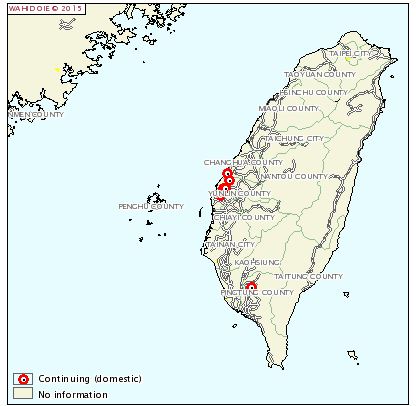 There were also two outbreaks caused by the H5N8 serotype of the virus, which occurred in Yunlin and Pingtung counties.
Those outbreaks caused 1609 deaths of birds in a susceptible population of 4880 birds on one goose farm and one abattoir containing chickens. The rest of the birds were destroyed.