Further Avian Flu Reported in Ghana
GHANA - There have been two more outbreaks of highly pathogenic avian flu in Ghana.
The outbreaks were of the H5N1 subtype, which has been spreading in West Africa recently.
One outbreak was on a farm with layers, broilers, ducks, quails, partridges, pigeons, geese and guinea fowls.
There were 2447 cases on this farm out of a susceptible population of 5176 birds, and all the infected birds died. Another 1979 birds were destroyed and 750 were slaughtered.
The other outbreak was in village poultry, affecting adult cockerels free ranging on a cassava farm. There were three deaths from the disease out of 11 birds. The remaining eight birds were destroyed.
Both the outbreaks occurred in the Greater Accra region.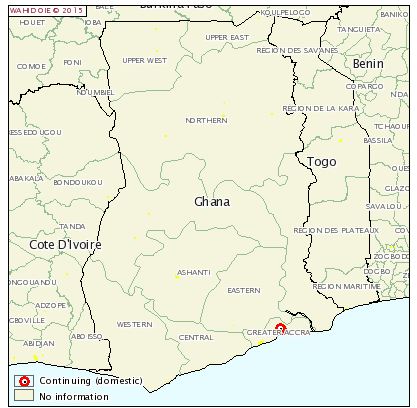 Further Reading
Visit our bird flu page by clicking here.