China's Poultry Import Market Affected by Avian Flu
CHINA - China's poultry imports are expected to decrease from 2015's figure, according to estimates from the US Department of Agriculture's Foreign Agricultural Service (FAS).
The report forecasts 2016 broiler meat imports at 200 thousand tons, 7 per cent down from USDA's 2015 official figure.
This reduction is largely attributed to the ban on US imports over avian flu detections. Imports from South American countries will continue to benefit from the ban on US poultry and poultry products.
Flu suspensions lifted on heat-treated products
The US exported approximately $300 million in poultry meat and poultry products to China in 2014.
However on January 9, 2015, China banned imports of US poultry and poultry related products because of highly pathogenic avian influenza detections in the United States.
In response, the USDA sought exemptions for heat treated poultry products, such as chicken paws and rendered meals. Discussions with the Chinese government resulted in the lifting of the ban on US poultry meal and feather meal for use as feed ingredients in China's livestock production.
In accordance with accepted science and international standards, heat treatment of certain duration and temperature is sufficient to ensure destruction of any virus.
Prior to the detection of HPAI in the United States, China maintained suspensions of US poultry meat and poultry product imports from five states, due to low-pathogenic avian influenza.
This policy is inconsistent with the World Organisation for Animal Health (OIE) guidelines, which do not recommend trade suspensions due to low pathogenicity avian influenza detections.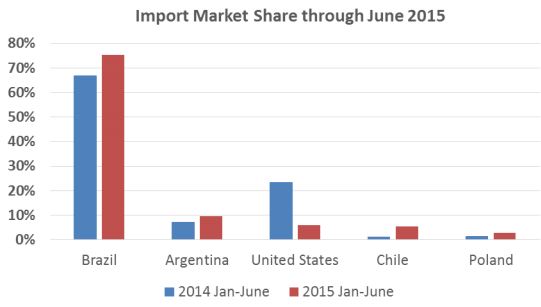 Exports expected to remain level
The report forecasts China's 2016 broiler meat exports at 430,000 tons, no change from USDA's 2015 official estimates.
Exports to Japan, China's main export destination, are expected to continue to decline as lingering food safety concerns have caused Japanese buyers to seek other sources for poultry, such as Thailand.
Japan and Hong Kong are the main export destinations for China's poultry products. China mainly exports cooked or preserved broiler meat products.
Although exports are expected to remain flat in the near term, China's skilled workers and some state-of-the art facilities give it a competitive advantage in regional markets such as Japan and Hong Kong.