Duck Viral Hepatitis Found in Japanese Ducklings
JAPAN - Cases of duck viral hepatitis have been found in Japan after farm owners discovered high mortality in their ducklings.
The disease is contagious and often fatal to ducklings. This is the first outbreak of the disease in Japan since it was found there between 1962 and 1963.
There were 251 deaths from the disease out of a susceptible population of 330 ducklings. The remaining 79 birds were slaughtered.
After high mortality was noticed by the farm owners on 12 June, the local veterinary officers visited the farm for inspection and samples from the dead ducklings were sent to the local veterinary laboratory of Himeji Livestock Hygiene Centre in Hyogo prefecture for diagnosis, including tests for avian influenza and Newcastle disease.
Salmonella Enteritidis was isolated from the duck samples on 22 June.
As haemorrhagic lesions and proliferation of bile duct were observed in liver by pathological examination, the test for duck virus hepatitis was conducted.
A virus was isolated with positive result for RT-PCR specific to duck hepatitis A virus 1. The allantoic fluid sample and the PCR products were sent to National Institute of Animal Health and confirmed as duck hepatitis A virus 1 on 11 August.
The farm will be disinfected, but no other measures will be applied.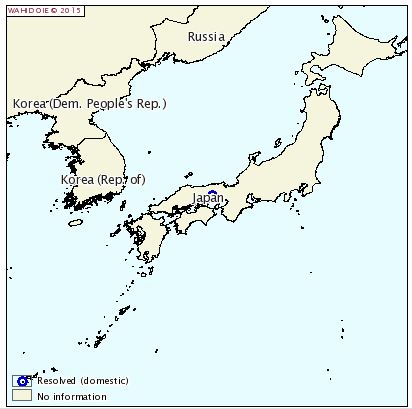 Further Reading
Find out more in our disease guide by clicking here.