New Communication & Marketing Coordinator for PERICOLI GROUP
Termotecnica Pericoli is pleased to announce the appointment of Ms Elena Andreo as Communication and Marketing Coordinator for Pericoli Group.
From September 2015 she will officially integrate the existing Marketing office actively contributing to a structured reorganisation of the corporate image and brand reputation.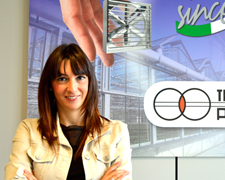 31 years old, Italian, with a sunny and bright personality, curious and self-confident, after a degree in Foreign Languages and Cultures for Enterprise and a specialisation in International Communication has gained experience working in the tourism sector. In parallel, she deepened her technical knowledge in the field of Communication and Social Media through specific training courses and collaborations like the one with Instragramers Italia.
Elena speaks English and Spanish, is passionate about photography, she followed a year of training alongside Mr Peter Acutt who, thanks to his deep knowledge and experience, has introduced her in this field through an attentive training and a constant dialogue.
Her activities will be mainly include the organisation of trade fairs and the management and planning of the company communication in several ways: online and offline advertising, social media, press releases, events etc.
Elena will be the central reference for all marketing activities of Pericoli Group, ensuring uniformity and harmonisation from the international advertising impression to the coordination and rationalisation of organisational activities within the company and between departments and branches.
Mauro Pericoli - Director - has declared: "I am excited about this new role, our company is constantly growing and Elena will help us further improve communication, managing all the information in a planned and effective way.
"We are working on a corporate image reconstruction project in preparation for our 50 anniversary in 2017, and her contribution will be essential to achieve this important common goal."