US Meat in Cold Storage Sets New Records
US - USDA-NASS recently released the monthly Cold Storage report, and numbers within the report largely supported current supply and demand factors affecting markets, write analysts Steve Meyer and Len Steiner.
Total chicken in cold storage saw a year-over-year increase, up 25 per cent. Of categories with more significant contribution to total chicken in cold storage, notable increases occurred in breast meat (up 21 per cent), leg quarters (up 17 per cent), wings (up 7 per cent), and other chicken (up 31 per cent).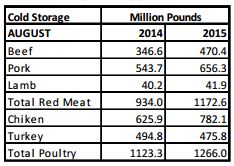 This reflects increases in chicken production, along with decreases in international demand for dark meat.
Turkey reported an opposite movement, in line with this years' struggles against HPAI in the industry. Going back to 2005, August turkey levels are the lowest they have been, at 475 million pounds – down 4 per cent from August 2014.
There was actually an increases year-over-year of turkey breast and legs, however decreases in all other categories including whole toms and hens.
On the beef side, the report breaks out beef stocks into "boneless" and "cuts". In total, beef stocks saw a yearover-year increase of 36 per cent, to top out at a total of just over 470 million pounds (91 per cent of that volume being boneless cuts).
Although the report does not detail if imported product is in cold storage or not, in the beef complex the combination of significant year-over-year increases of imported beef from Australia (mostly 90 per cent lean ground/hamburger type beef) along with the consistently low price of trim on the domestic front, support the year-over-year increase in cold storage numbers.
One additional factor on the beef side, is July to August recorded an increase in cold storage volume, when seasonally we normally see a decrease during that time period.
Moving over to pork, going back to 2005, cold storage levels this year are the highest they have been for the month of August.
At just over 656 million pounds, or 21 per cent above August of 2014, these levels reflect the combination of increases on the supply side due to very limited losses from PEDV compared to early 2014, in combination with demand side issues internationally due to struggling overseas economies and a strengthening dollar.
Month to month, pork in cold storage experienced an upswing, which is seasonally normal for this time of year. Within categories of pork in cold storage, bone-in and boneless ham volumes were up 44 per cent and 21 per cent, respectively, for a total of an additional 58 million pounds. Bone-in picnics increased by 38 per cent (up 3 million pounds), spareribs by 47 per cent (up 23 million pounds) and variety meats by 49 per cent (up 16 million pounds) compared to August of 2014.
Out of these products, hams make up the largest percentage of total pork volume in cold storage, at 36 per cent. Importantly, belly stocks were the lowest they had been in August since 2010 with a 70 per cent year-over-year decrease.
Lamb and mutton in cold storage set a new record high for August, and in general, since this series was first recorded in 1973. Up to almost 42 million pounds, a small volume compared to other proteins, but a significant volume in the lamb industry and most likely will have negative price consequences down the road.
These numbers put total red meat in cold storage at 1.17 billion pounds for August, 26 per cent above 2014, and total poultry in cold storage at 1.27 billion pounds, 13 per cent above year ago.