Avian Flu Found on French Backyard Holding
FRANCE - A case of highly pathogenic avian influenza has been confirmed in France following abnormal mortality at a backyard poultry holding.
There were 22 bird deaths at the affected farm in Dordogne, and the remaining 10 birds were destroyed to prevent the disease spreading.
The flock contained a mixture of broiler and layer chickens.
Testing identified the virus as the highly pathogenic H5N1 serotype.
According to France's report to the OIE, France has not experienced an outbreak of avian flu since 2007.
A statement from France's agriculture department said that the sequencing of the strain is underway, but it seems to be a strain already detected in Europe, which until now has had a low pathogenic profile.
Minister of agriculture Stéphane Le Foll immediately enacted a national animal health emergency response plan, including setting up a 3km protection zone and a 10km surveillance zone around the outbreak location. Monitoring will be strengthened, not only in farm animals but also in wildlife.
The key aims of the emergency plan are to protect surrounding farms and prevent export of disease to other countries.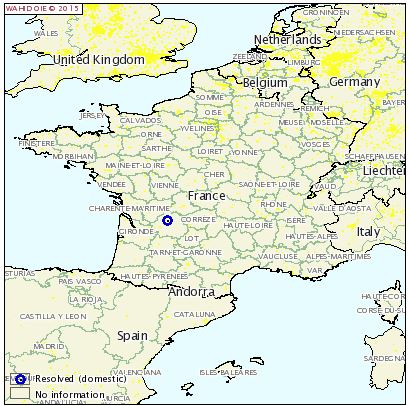 Further Reading
You can visit the avian flu page by clicking here.