Handle with Care: from the Nest to the Setter Door
GLOBAL - The egg provides the food and protection for the chick embryo from the time of lay to the point of hatch.
Handling fertile eggs requires due care and attention to detail as they are moved from nest to setter if fertility and hatchability are to be maintained.
Treatment of the egg during this time must avoid any damage to either the egg or the embryo inside it; careful handling and keeping eggs clean and dry and at the correct temperature are key.
Eggs must be kept free from contamination. Nests need to be kept clean and nest eggs collected regularly (at least four times a day). Dirty or floor eggs should be kept separate from clean nest eggs to prevent cross-contamination.
Storing eggs at the correct temperature is essential – the longer the eggs are to be stored for, the lower the storage temperature required. The cold chain, once established, must be maintained right through until loading on the lorry. Any increase in temperature may lead to the formation of condensation on the egg surface which can encourage contamination.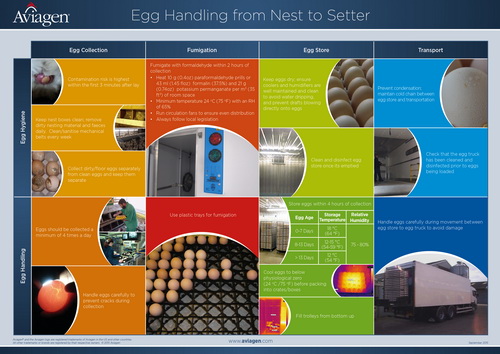 Click the picture to enlarge
A new poster from Aviagen®, highlighting the correct egg handling procedures from nest to setter, provides, among other useful information, correct storage temperatures for a range of egg storage periods. Copies of the poster can be obtained from your local Aviagen representative.