Low Path Avian Flu Outbreaks Found in Taiwan
TAIWAN - Five new outbreaks of low pathogenic avian influenza have been found in Taiwan.
The outbreaks were of the H5N2 serotype and affected chickens on farms. Five thousand birds were killed by the disease.
Although the outbreaks have only just been confirmed, they actually took place earlier in the year. Over 89,000 animals were destroyed, and culling was completed by the end of January 2015.
The report to the OIE said that thorough cleaning and disinfection were conducted after the stamping out operation. Surrounding poultry farms within 3 km radius of the infected farms had been under intensified surveillance for 3 months.
The outbreaks occurred in Pingtung, Chiayi, and Yunlin counties.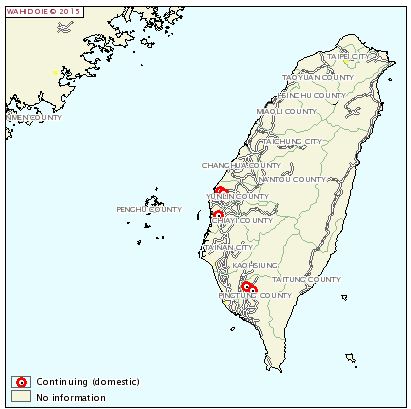 Further Reading
You can visit the avian flu page by clicking here.