Taiwan Hit by Six More Bird Flu Outbreaks
TAIWAN - Taiwan has reported six more outbreaks of highly pathogenic avian influenza.
There were four outbreaks of the H5N2 serotype in Pingtung and Hualien counties (see image above). Just over 14,000 birds were destroyed to try and prevent these outbreaks from spreading.
The premises affected included a duck farm, a chicken farm, and chickens in two abattoirs. The cases were discovered after abnormal mortality levels.
There were two outbreaks of H5N8 avian influenza on two goose farms, in Chiayi county and Tainan city (see map below).
1671 birds were destroyed to try and prevent the disease spreading.
Now that all the animals on the infected premises have been culled, disinfection measures have been put in place, as well as movement controls.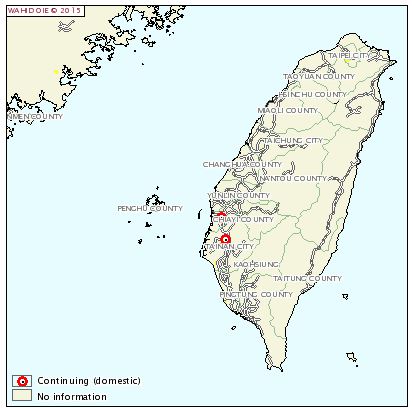 Further Reading
You can visit the avian flu page by clicking here.