Big Dutchman With Branch Office in Italy
ITALY - Big Dutchman is considered the international market leader for poultry equipment and feeding systems for modern poultry production and has been for many years. Numerous poultry managers in Italy already count on the reliable systems from the equipment supplier.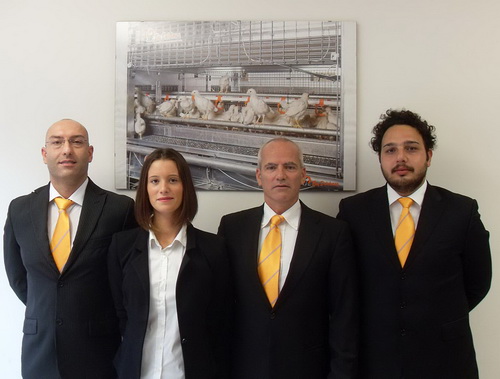 Big Dutchman in Italy – meet the team (left to right): Andrea Sacchini, Giulia Ferri, Sergio Ferri, Mirco Gautieri
Since 2014, Big Dutchman is proud to have its own branch office in Italy. Whether the customer is looking for aviaries for egg production or modern ventilation concepts for poultry growing, the competent Big Dutchman team with its office in Barberino Val d'Elsa near Florence will be happy to answer all questions regarding the offered equipment and services. Innovative solutions for layer breeder management and for broiler breeder management are also a part of the extensive product offer.
The advantages of the increased Big Dutchman presence on the Italian market are obvious. "We want to improve our customer service even further," explains sales manager Sergio Ferri. The employees of Big Dutchman in Italy have many years of experience and an outstanding knowledge of poultry equipment. They work on equipping new houses and also always find solutions when renovating old ones.
Big Dutchman equipment for efficient poultry production
For these tasks, the team in Italy can draw upon the comprehensive Big Dutchman product range, which includes traditional and computer-controlled feeding and housing equipment as well as systems for poultry climate control and exhaust air treatment. Of course, the product range also comprises computer equipment for efficient poultry house management.
The scope of Big Dutchman services ranges from small to large, fully integrated farms. Big Dutchman can thus offer its customers all options – from planning to commissioning, including after sales services.