Hy-Line International Hosts First Seminar for Latin America Breeders and Hatcheries
US - Hy-Line International, the world leader in layer poultry genetics, brought together its Latin America, Spanish and Moroccan distributors in December to share strategic management methods for optimal breeder performance and superior hatchery results.
More than 50 breeder and hatchery managers took part in the first Hy-Line Latin America Breeders and Hatcheries Congress in Miami for two days of intensive training.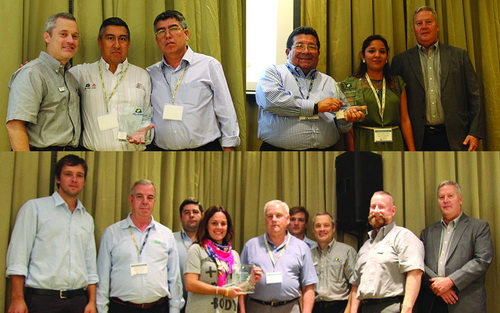 Top Flock Award Recipients
The participants heard presentations on nutrition, lighting, disease management, infrastructure, Avian Infleunza, global markets, and worldwide results of the Hy-Line Brown and W-36. This information was provided by Hy-Line Technical Services team members, guest speakers and experienced professionals from Hy-Line's Latin America distributors.
Additionally, three Hy-Line distributors received awards for their leading results with Hy-Line Brown and W-36 – Avicol S.A. of Colombia, Cabana Avicola Feller SRL of Argentina, and San Fernando S.A. of Peru.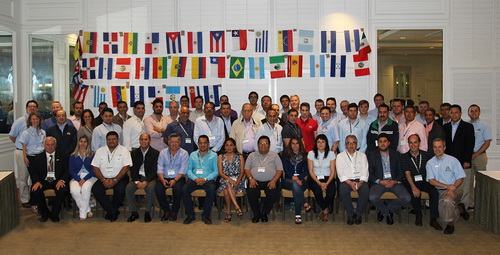 LA Breeders and Hatcheries Congress 2015
"Our distributors are our direct link to the end-user of Hy-Line layers. We saw this as a great opportunity to work with them to achieve the highest chick quality while optimizing their hatchery efficiency," said Thomas Dixon, sales and marketing director for Hy-Line International.
Founded in 1936 by Henry A. Wallace, Hy-Line was the first poultry breeding company to apply the principles of hybridization to commercial layer breeding. Today, Hy-Line International continues to be a pioneer as the first company with its own in-house molecular genetics team leading the industry in application of DNA-based technology to its breeding and genetics program. Hy-Line produces and sells both brown and white egg stock to more than 120 countries worldwide and is the largest selling layer in the American egg industry and around the world.