IBV Study Compares Vaccine Protocols for Cal-99 Variant
US - Vaccination with Massachusetts and Arkansas infectious bronchitis virus (IBV) serotypes followed by a booster provided the best protection against a contemporary California 99 (Cal-99) IBV variant in a recent challenge study, Kalen Cookson, DVM, MAM, a technical services veterinarian with Zoetis Inc., said at the 2015 Western Poultry Disease Conference held in Sacramento [1].
Cal-99 continues to circulate, triggering respiratory disease in California broilers. Previous studies have shown that this IBV variant is most similar to the Arkansas-DPI serotype, and that vaccination with the Massachusetts plus Arkansas IBV serotypes provided more complete protection than Massachusetts plus Connecticut IBV serotypes, he said.
In the current study, researchers from Zoetis Inc. and the University of Georgia compared the protection provided by different vaccine combinations, with and without a booster, against a contemporary Cal-99. They equally divided 120 commercial, newly hatched broilers into eight different treatment groups (Table 1).
Table 1 Vaccine protocols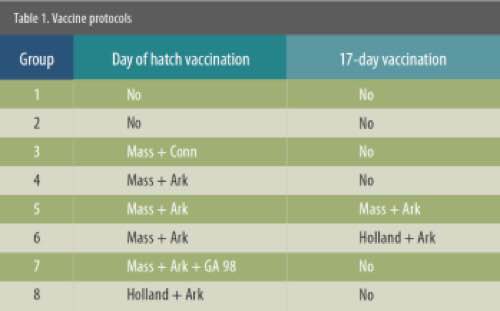 On day 31 of age, all birds except those in Group 1 were challenged with Cal-99, which was administered via eye drop, Cookson explained.
The researchers evaluated the results 5 days after challenge based on clinical signs, airsacculitis, histopathology and with real-time polymerase chain reaction (PCR) analysis, which was used to estimate viral loads using threshold cycle values, he said.
Highest viral loads
Challenged control birds had the highest incidence of moderate to severe clinical signs and airsacculitis, their tracheal histopathology was above baseline and they had the highest viral loads, indicating the Cal-99 "take" was successful, Cookson said.
Real-time PCR analysis demonstrated the Massachusetts + Connecticut vaccine protocol reduced viral loads the least; the Massachusetts + Arkansas lowered viral loads more, and similar reductions were seen with Massachusetts + Arkansas + Georgia 98 and Holland + Arkansas.
"These results demonstrate the value of adding Arkansas instead of Connecticut to Massachusetts to reduce Cal-99 infection. However, adding a third serotype, Georgia 98, did not enhance protection nor did substituting Holland for the milder Massachusetts serotype vaccine," Cookson said.
The greatest reduction in viral loads was seen with Massachusetts + Arkansas followed by a booster, suggesting that boosting programs may provide better protection in the face of a high field challenge with Cal-99, he concluded.
1 Cookson k, et al. Comparison of vaccination programs against a contemporary Cal-99 iBV isolate in commercial broilers. Proceedings of the Sixty-Fourth Western Poultry Disease Conference. 2015.