Industry Legend Jim McAdam Retires
UK - Aviagen's award-winning Geneticist calls time on illustrious career.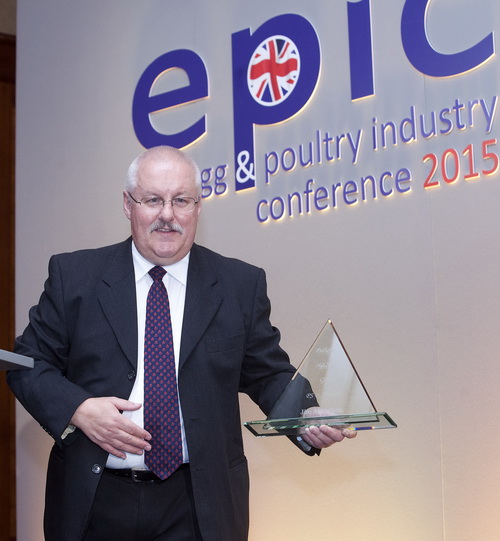 After 37 years of service to Ross® Breeders and Aviagen® and major contributions to the international poultry industry, Jim McAdam, Breeding Programme Director of Aviagen Ltd, retired at the end of 2015.
Jim's career commenced in 1978 with Ross Breeders Ltd, now Aviagen Ltd, having studied BSc (Hons) Genetics and MSc Animal Breeding at the University of Edinburgh. He has, throughout his career, worked closely with customers on an international scale, and his profound understanding of the industry greatly contributed to the success of the Ross brand.
Jim's knowledge of the industry and appreciation of customer needs were instrumental in the development of the highly successful Ross 308, which is recognised worldwide for its high performance both as a broiler and breeder. Jim has always been keen to enhance bird health and efficiency by promoting new technology into broiler breeding; an example of this is transponder-based feed conversion selection in groups of birds to give increased improvement of FCR in broilers.
Jim has received a number of awards during his career including membership to the Russian Academy of Agricultural Sciences. In the year of his retirement, Jim was awarded the Long Term Achievement award at the UK Egg & Poultry Industry Conference and the Distinguished Service award at the BPC House of Commons Awards 2015.
John Reed, Chairman, British Poultry Council, said: "Jim has been particularly good at listening to what the industry is saying and then trying to address that in his breeding programme. He has a fantastic knowledge of poultry genetics and it has been great to work with someone of his calibre."
Jim commented: "I have enjoyed every minute with Aviagen. It has been a great adventure and one that I will not forget. I am privileged to have been involved in breeding programmes that are still continuing today and it has been an honour to work on these programmes with people who, I am pleased to say, have become my friends."