Measurement of Air Pressure, Wind Direction and Wind Speed in a Single Compact Unit
DENMARK - DOL 58 from dol-sensors a/s is a truly remarkable product in the sense that wind direction and wind speed are measured using ultra-sound, so it has no moving parts like propellers or indicators, which will eventually wear over time.
"The lack of moving parts also means that the accuracy of DOL 58 will remain the same in the lifetime of the product, while at the same time, the entire weather sensor can be kept very compact and with minimal installation time," said Niels Peter Andersen, Product Manager, dol-sensors a/s.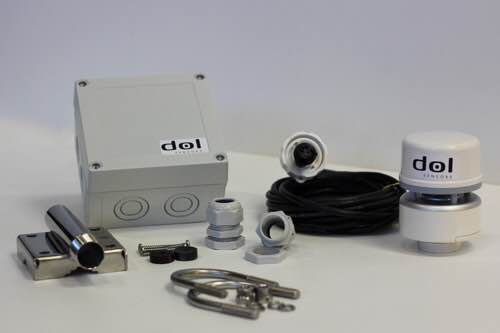 When asked where the weather sensor can be used, Niels Peter Andersen replied: "dol-sensors a/s has its heritage in the agricultural business, and surely that is where we see DOL 58 being used the most. But having said that, the weather sensor can be used in any business, where a reliable weather sensor is required."
DOL 58 weather sensor is delivered as a complete package, comprising:
Weather sensor
Connection box
5 m/16 feet cable for connection between weather sensor and connection box
Mounting bracket made from stainless steel for the weather sensor for wall or pole mounting
DOL 58 comes without a display, but with three 0-10 V analog outputs, which can easily be integrated into any controller or display unit that accepts analog signals.
Optionally, the weather sensor can be delivered with air temperature instead of air pressure, as one of the three outputs.