Quality Poultry Breeders and Arbor Acres Host Seminar in Pakistan
PAKISTAN - Quality Poultry Breeders sponsored a successful Arbor Acres® seminar which attracted more than 70 customers and 40 local chicken production companies in Pakistan in early November.
The objective of the event was to promote the Arbor Acres breeder through the delivery of valuable data and management information on the performance of the breeder and to also demonstrate the competitive advantages of the Arbor Acres broiler in a number of locations around the world.
Dr Sarosh, Quality Poultry Breeders welcomed attendees and was followed by Bill Souther Senior, Vice President, Aviagen Asia Pacific who outlined the importance of the Pakistan Poultry Industry in Asia.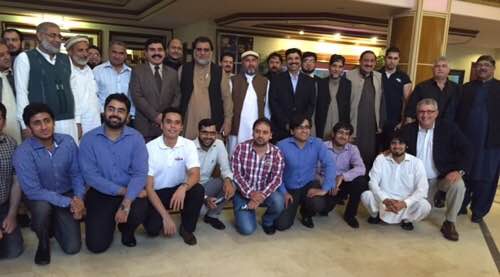 Marc S. Baribault, Vice President of Arbor Acres delivered the key presentation on the rearing and uniformity of the broiler breeder. Marc paid attention to the advantages and factors of good uniformity together with the impact that a number of poorly implemented practices can have on uniformity of the modern breeder. He stressed the importance of the Avian Growth Profile and brooding and also reviewed the recommended approaches to stocking density, lighting, temperature, grading, feeder and drinker space along with the interpretation and value of data used in flock management.
"It is an honor to work with Dr. Sarosh, Quality Breeders and the Pakistani Poultry Industry. Their hunger and dedication on improving the poultry market and bird performance is second to none," commented Marc Baribault at the end of the seminar.
Saksake Pacharadit, Assistant Vice President, Arbor Acres delivered a presentation entitled Arbor Acres Today and Tomorrow which addressed the current slow and fast feather Arbor Acres Plus products and the performance recorded in China, South Africa and Thailand. He also reviewed the breeding program achievements and projected future genetic progress for Arbor Acres to the end of 2017.
Mr. Khalid Saleem Malik, Chairman of the Pakistani Poultry Association, expressed his appreciation for Quality Poultry Breeders and Dr, Sarosh with the following comments, "We appreciate the guidance and contribution Quality Poultry Breeders has made in the poultry industry in Pakistan. They were the first company to bring the grandparent operations into Pakistan and have always served the industry by providing breeder and management awareness to the farmers through seminars and on-farm training." He ended his speech hoping that the company will continue its positive contribution to the industry and remain at the forefront of new developments.
Dr. Sarosh closed the meeting and said, "I am very grateful to the Arbor Acres team for participating and allowing us to organize another Arbor Acres Seminar here in Pakistan. The presentations generated good questions which reflected everyone's deep interest in the Arbor Acres Breeder and Broiler performance. We look forward to their next visit and to further exchange of information and knowledge to help all of us in the future."