Taiwan Reports Seven New Bird Flu Outbreaks
TAIWAN - The latest bird flu outbreaks to be reported in Taiwan include one case in a wild bird.
A pale thrush in Taipei City's Neihu District died from the disease.
The six other outbreaks affected poultry farms and an abattoir in Kaohsiung, Chiayi, Yunlin and Changhua counties, and were discovered after abnormal mortality levels.
Infection of the sites with H5N2 highly pathogenic avian influenza was confirmed by laboratory testing, and the farms were put under movement restriction and the birds culled. Thorough cleaning and disinfection measures have been used to control the disease on all the sites.
Over 21,000 birds were destroyed to keep the disease in check, and another 11,000 died from the virus.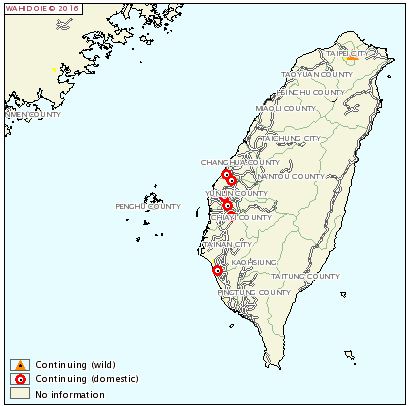 Further Reading
You can visit the avian flu page by clicking here.