Thousands of Poultry Destroyed in Taiwan Bird Flu Outbreaks
TAIWAN - Ten more outbreaks of highly pathogenic avian influenza have been reported in Taiwan.
There were three outbreaks of the H5N8 strain, in Pingtung, Chiayi, and Koahsiung counties.
The farms affected included a duck farm, a goose farm and a chicken farm.
Over one thousand birds died and nearly ten thousand were destroyed as a result of the H5N8 outbreaks.
There were also seven outbreaks of the H5N2 strain, in Pingtung, Changhua, Yunlin, and Taipei counties, affecting chickens, geese and turkeys on farms and abattoirs.
Over 32 thousand birds were destroyed in the H5N2 outbreaks, and over 6000 died.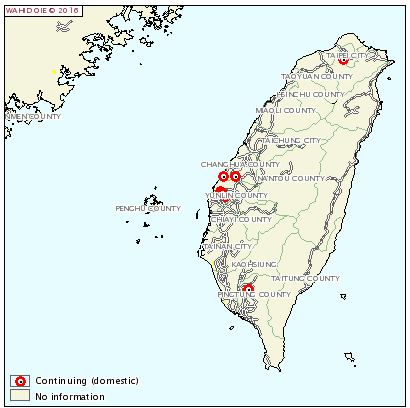 Further Reading
You can visit the avian flu page by clicking here.