Feed Additive Research Shows Boost in Egg Production Efficiency
ANALYSIS - Research recently presented at the International Production and Processing Expo (IPPE) compared a feed additive containing Refined Functional Carbohydrates™ (RFC™) to competitors.
Sangita Jalukar, Product Development and Research Coordinator at Arm & Hammer Animal Nutrition presented new research comparing the benefits of Aviator™, specifically for egg production efficiency and egg parameters.
Dr. Sangita Jalukar speaks to ThePoultrySite's Sarah Mikesell about new the research findings.
"The study was done in Guatemala, and we found that Aviator was excellent compared to some of the other competitors," Dr. Jalukar said. "Aviator was very good at improving both egg production efficiency as well as improving some of the egg parameters, supporting its application in the layer industry."
The next line of study for AVIATOR will further explore product food safety benefits like salmonella and E. coli reduction.
RESEARCH: The effect of AVIATOR™ supplementation compared to other feed additives on layer performance
Introduction
AVIATOR, sold as CELMANAX™ in the US, is a unique feed additive containing Refined Functional Carbohydrates™ (RFC™) derived from yeast, designed to improve overall health, growth and feed conversion in poultry. Multiple studies in broilers show these benefits to be consistent. It was of interest to determine if AVIATOR can offer the same benefits for layers and how well it compares to some of the other common feed additives.
Study Results
All treatments improved egg production compared to control, but AVIATOR™ gave the largest numerical improvement in % production and number of eggs/hen housed compared to other feed additives tested (Figure 1).
Feed efficiency was improved in hens supplemented with AVIATOR and Xtract® compared to all other treatments (P<0.05) (Figure 2).
Egg weight was not affected by treatments (Table 1).
Egg yolk color was significantly higher in hens supplemented with BMD® AVIATOR, and Xtract compared to control and probiotic (Table 1).
Egg shell thickness was highest in hens receiving Xtract and lowest in those receiving the probiotic, with all other treatments being intermediate (Table 1).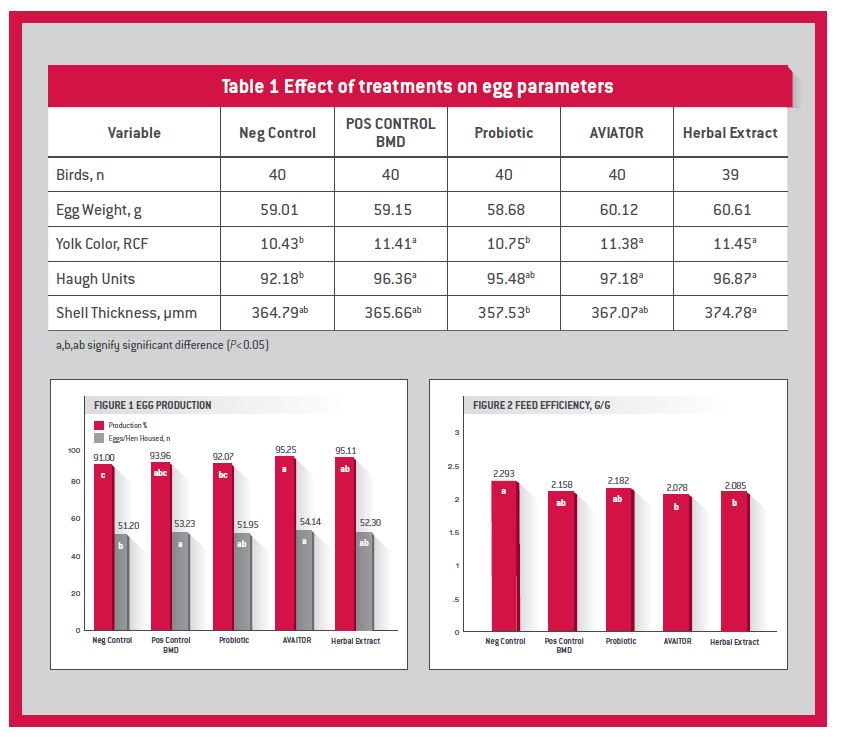 Study Conclusions
AVIATOR fed to layers resulted in the largest improvement in layer performance while improving some egg parameters compared to other feed additives tested.