First Arbor Acres 140 Club member in Russia
RUSSIA - The first Russian company, JSC Agrokomplex N.I. Tkachev, has gained membership to the Arbor Acres® 140 Club with a result of 140.2 chicks per hen housed. This achievement places the company in a leading position in the poultry industry in Russia as well as providing them with recognition as a highly successful enterprise globally.
Evgeny Nikolaevich Khvorostina, Director General, said, "The company's consistent growth and outstanding performance are down to the exceptional hard work of our team and a series of strategic investments.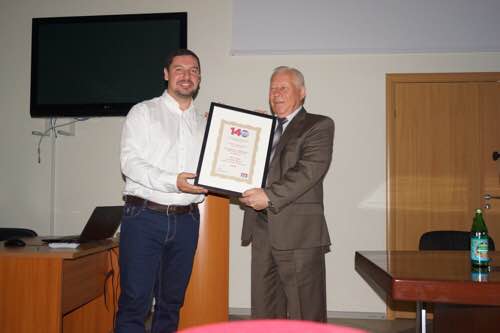 Over the years we have managed to attain excellent results, such as live meat production of 96.9 thousand tonne per annum and a record-breaking average daily bodyweight gain for Russia of 61.5 g, with our Feed Conversion Ratio equalling the European standard. We are ambitious and set the bar as high as possible to ensure that we are constantly improving."
Vladimar Pankratov, Sales Manager, Aviagen® LLC, added, "We want to offer our sincerest congratulations to the team of JSC Agrokomplex N.I. Tkachev and are confident that their determination and expertise will lead to further achievements. We are looking forward to welcoming even more Russian customers to the Arbor Acres 140 Club in 2016."