Aviagen Prominent at First VIV MEA Show in Abu Dhabi
UNITED ARAB EMIRATES - The Aviagen® exhibition stand was the meeting point for grandparent and parent stock customers from around the region, who took the opportunity to visit with their branded commercial and support teams at the inaugural VIV MEA, Feb. 15-17, in Abu Dhabi.
The Aviagen stand featured key messages for the company's three brands, Arbor Acres®, Indian River® and Ross®, along with a regional map highlighting the distribution network for each brand in Turkey, the Middle East and Africa.
The show provided a platform to launch the Ross 60-year anniversary campaign in the Middle East, Africa (MEA) market, and also for the Arbor Acres team to meet with regional customers.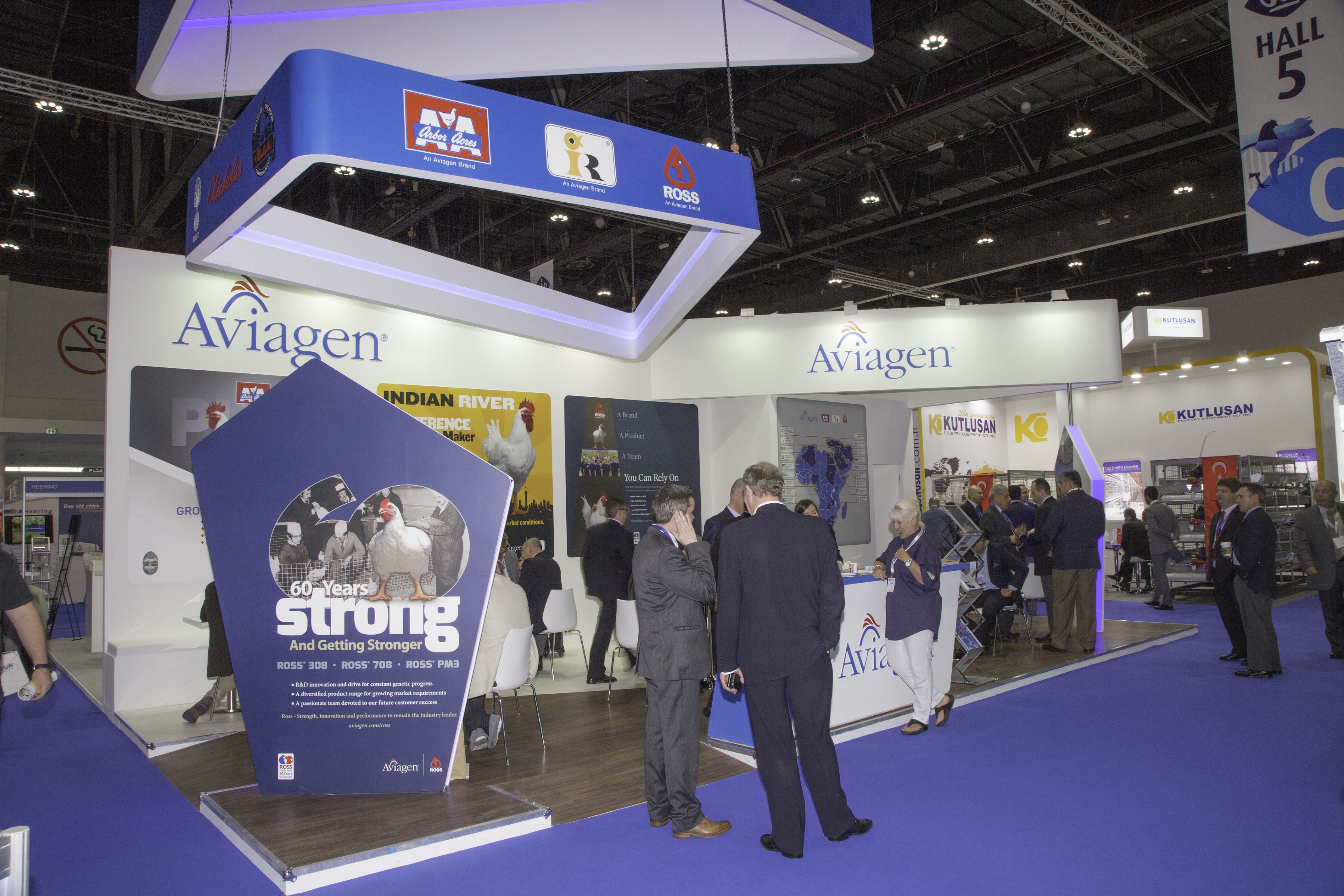 Additionally, a large contingent of Indian River customers who were attending the annual association meeting for Asia and the Middle East in Dubai got a day to visit the show and gain exposure to the rapidly growing MEA market, which has one of the highest per capita chicken consumption rates in the world.
Aviagen featured display panels and literature for its turkey division and Aviagen India subsidiary to increase awareness of its brands and highlight the Aviagen supply strategies and growth prospects in the region. All Aviagen products were fully supported with product-branded literature, including management guides and the popular "How To..." series of step-by-step guides on critical management practices and techniques that aid in overall flock health and performance.
A successful Aviagen dinner was held for around 50 customers during the show in appreciation of their business. Aviagen's international product manager Dominic Elfick, also delivered a creative and informative presentation on the Turkey, Middle East and Africa outlook for poultry.
Many customers remarked on the ease of travel and entry to UAE, which provided incentive to participate in the new event and hold meetings with their suppliers early in the 2016 calendar year. The interest and support was evident at the Aviagen stand and well recognized by commercial managers, with many attendees coming from the Middle East, Africa and South Asia.
"The number of customers at the show and the level of representation have been beneficial and encouraging. The show provided the chance to meet with customers early on in the year, which is a bonus," commented Bulent Tanyildizi, Ross international commercial manager.
"It has been busy throughout the event with customers from many parts of the region attending the show," agreed Puzant Dakessian, international commercial manager for Arbor Acres. "We planned to make a strong presence here and have been rewarded with good support and turnout."
Mohsen Ganjaei, Indian River commercial and product support manager for MEA was also pleased with the show's value to his customers. "It was beneficial for our Asia and Middle East customers at the association meeting to see the diversity and strength of the region, as well as the support for the Indian River brand in the market," he said.