Cobb Technical Training Week in Verona
ITALY - More than 30 delegates from the Cobb Europe sales and technical team took part in a training week at Verona, Italy, which included visits to specialist manufacturing companies.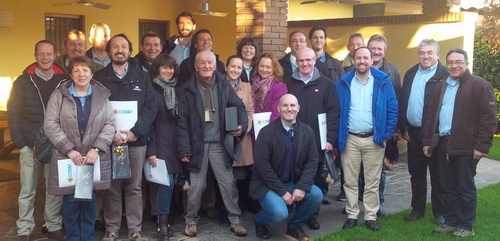 On day one Ampai Nangsuay, of Wageningen University in the Netherlands, updated the Cobb team on a joint three-year research project sponsored by Cobb and Aviagen on the influence of egg origin and its effect on embryonic development and nutrient metabolism. Filip van Immerzeel, from the University of Gent, discussed broiler gut integrity and its influence on broiler performance. And finally Dr Manfred Pietsch spoke about the product Arbocel and how it can improve litter conditions in both broiler and breeder production.
The next two days were spent visiting leading product manufacturers. The first stop was to SKA, located in Sandrigo, which specializes in equipment for floor rearing. Here delegates heard presentations from Davide Pozzato, Europe export manager, and Claudio Torresan, Middle East and Africa export manager, who gave an overview of the company which recently celebrated its 60th anniversary and its products. They also met two of SKA's customers, Davide Nizzetto and Bruno Foresti, who discussed the results seen on their farms.
The next visit was to Isorella where the CODAF factory is located. Here delegates had the honour of meeting the president Mr G Daffi, who started to manufacture poultry equipment during the 60's. Then they were given a personal tour of the factory by export manager Dr Mike Baronchelli and area sales manager Pierangelo Scomodon, and saw where the company's extensive range of automated feeding systems is produced.
The visit ended with a trip to Cazzago San Martino, home to the factories of Gigola and Riccardi, who have manufactured fans and cooling pads since 1986. Managing director Pietro Seccamani and export sales manager Alberto Gritti walked the team around the facilities, talking through the machinery and new product developments.
"This was another excellent opportunity for these companies and leading researchers to update our team on their products and research projects," said Matthew Wilson, technical services director for Cobb Europe. "It was also an ideal chance for us to discuss with them the continued Cobb genetic progress at breeder and broiler level."