Tempo - A New Feature from Chick Master to Monitor Eggshell Temperature
US - Chick Master is introducing a new tracking tool to monitor eggshell temperature in real time. The new tool, called Tempo, is now available with Chick Master's Maestro Hatchery Management System on all Avida Symphony setters. The information provided by Tempo can aid hatcheries to improve chick quality.
The current needs of the industry demand better tools to obtain maximum hatch results.
Chick Master's proven Maestro System is an intelligent management system that ensures communication, data monitoring and control of incubation and ventilation equipment to maximize hatchery performance.
Robert Holzer, president of Chick Master said: "One of the key factors influencing high quality chick development is proper embryo temperature during the incubation period. Tempo now adds a new dimension by providing the user the ability to monitor egg shell temperature in each zone in the most uniform single stage setter today."
Tempo provides precise eggshell temperature data via a Resistance Temperature Detector (RTD) which is used in healthcare services and medical research where precise accuracy is required.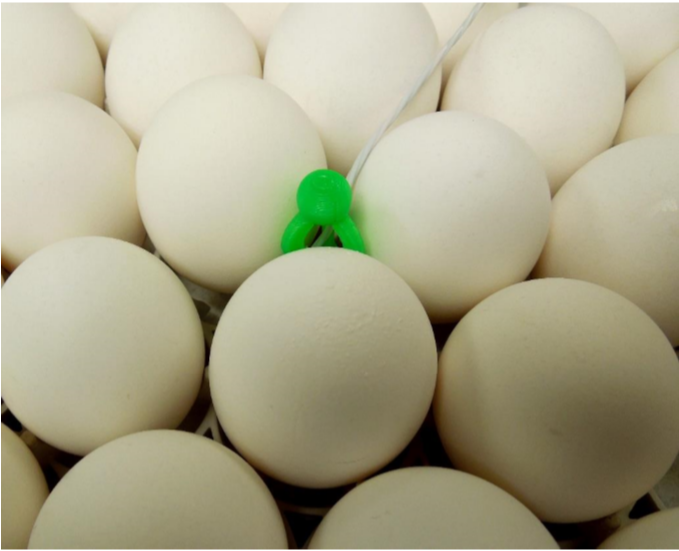 The Tempo sensor
The temperature readings are not affected by the radiating heat that surrounds the targeted egg providing more precise temperature information allowing the user to better evaluate and monitor optimal embryo development.
Information provided by Tempo can be viewed as a graph on the Maestro Hatchery Management System or as a real time value on the machine's touch screen.
This feature will enable the user to modify the step program for factors including breeder flock age, egg size, fertility and season of the year to ensure proper temperature during the entire incubation process.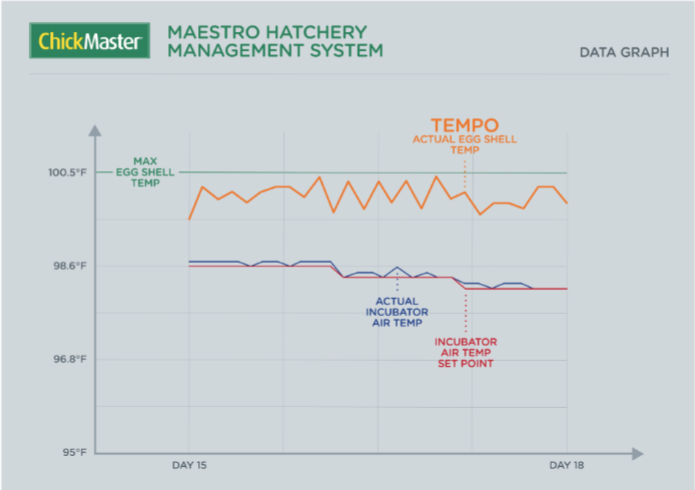 Real-time Tempo data from Maestro
About Chick Master Incubator Company
Chick Master began operations nearly 70 years ago. Today the privately-owned global business is based in Medina, Ohio, US.
Chick Master designs, manufactures, distributes and services a complete line of incubation and energy management systems plus control devices to hatcheries worldwide.
The company, which has manufacturing operations in the United States and the United Kingdom, services hatchery customers in over 100 countries both directly from the factory and through a global network of sales representatives. For more information about Chick Master visit www.chickmaster.com.