Why Measure Chain Feeder Speed?
GLOBAL - Feed represents the single largest cost of broiler breeder production so it is important that all birds are able to access feed at the same time and without obstruction.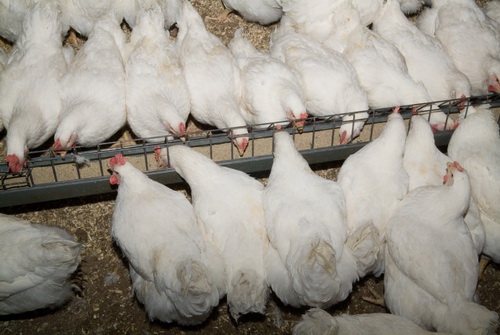 Feed must be distributed as uniformly and as quickly as possible around the breeder house in order to achieve and maintain flock uniformity.
Chain feeder speed determines how quickly feed is distributed and measuring chain feeder speed in the breeder house is an essential part of good feed management.
If chain feeder speed is correct, feed distribution will be timely and even, so that all birds can eat at the same time.
Incorrect chain feeder speeds will lead to non-uniform feeding, poor flock uniformity, reduced egg output and potentially reduced flock welfare. Feed distribution around the entire track should not take more than 3 minutes and typically a chain feeder speed of 0.5 m / second (90 feet per minute) is seen as adequate.
Chain feeder speed should be measured at least once per flock to help to identify any feed presentation issues and reduce the impact of poor feed distribution time.
The latest Aviagen® Breeder Management How To provides information on the correct procedure for measuring chain feeder speed and gives advice on areas to examine if this is incorrect.
How To….Measure Chain Speeder Feed is available to download for Arbor Acres®, Indian River® and Ross®.