Myanmar Reports First Bird Flu Outbreak for a Year, Blamed on Poor Biosecurity
MYANMAR - An outbreak of highly pathogenic avian influenza has been reported in Myanmar's Sagaing Division, Monya township.
The disease, discovered on a layer farm, was caused by an H5 serotype of the disease, but it was not specified which strain was involved in the country's report to the World Organisation for Animal Health (OIE).
Nearly 500 birds were destroyed on the farm after several birds died from the disease. The outbreak was attributed to a lack of biosecurity on the farm.
Regional newspaper The Irrawaddy reported that since the outbreak, over 20,000 chickens in the area have been killed and poultry trading has been restricted there.
The newspaper report also suggests that up to six other farms have had outbreaks of avian influenza, although these other outbreaks have not yet been reported to the OIE.
"We can't control the entire poultry market in the division, but we plan to investigate nearby villages and towns and will prohibit trade with poultry farms in Monywa," Myint Naing, chief minister of Sagaing Division, was reported as saying.
The same area was also apparently hit by avian flu in early 2015, but Myanmar has not suffered from any further outbreaks until now.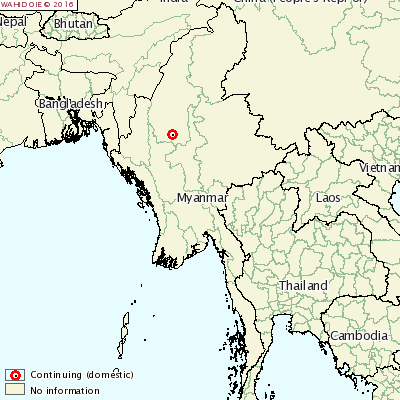 Further Reading
You can visit the avian flu page by clicking here.