New Account Manager in France and Italy
EU - Frederic Moumaneix has been appointed by Cobb Europe as account manager responsible for sales in the French and Italian markets.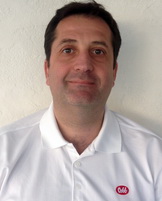 Mr Moumaneix who has a degree in agronomics, began his career developing the markets in Japan for the Saventia Group, a major French cheese and food producer.
He has developed a start-up business in knowledge management and training, managed the union representing the French agricultural and garden machinery sector, and for the past six years been a business development consultant for agricultural organisations.
"I'm very pleased to introduce Frederic in the French and Italian markets," said Wout van Wolfswinkel senior account manager, Cobb Europe. "We are excited to have a person familiar with the region to help strengthen our position and to further the growth of Cobb in these two countries."