Aviagen Celebrates Ongoing Success at British Pig & Poultry Fair
UK - Aviagen® celebrated past and present successes and looked to the future as it welcomed UK customers and industry colleagues to its stand at the British Pig & Poultry Fair held earlier this month in Stoneleigh, Warwickshire.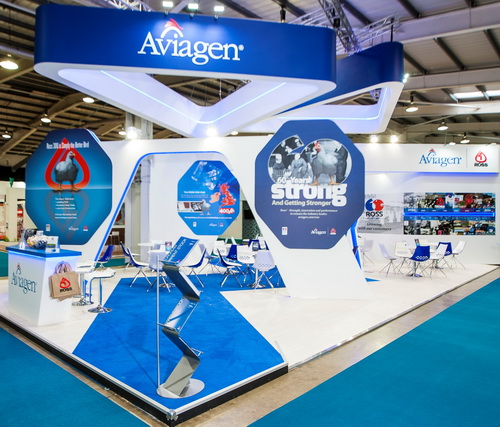 With 2016 marking 60 years of the Ross® brand shaping the worldwide broiler breeder market, Aviagen took the opportunity to demonstrate how it continues to flourish and grow with its customers in the UK, the home of Ross.
The exhibition provided the ideal platform to showcase the ongoing success of the Ross 308 and to highlight the Ross UK Flock Awards and Ross 400 Club, which both continue to go from strength to strength. Recognising performance and celebrating customer success is a large part of the company's ethos and visitors to the stand were able to see first-hand the ways in which Aviagen recognises the hard work and outstanding results achieved by Ross farmers in the UK.
As well as celebrating milestones and past successes, Aviagen also had an eye on the future, with a dedicated Careers Corner, shared with members of The Nuffield Trust, to help recruit young talent to the industry.
Away from the stand, key members of the Aviagen team offered professional and industry insights. Magnus Swalander, Aviagen director for research and development, presented an R&D update to a visiting Russian delegation hosted by Danisco Animal Nutrition, part of DuPont Industrial Biosciences.
Aviagen UK Technical Manager Glenn Bushell chaired a Poultry Meat Performance session of the Innovation and Performance Forum Programme. The session focused on how best to find marginal gains to achieve optimum performance from broilers.
"It was great to see so many visitors to the stand and it is always a pleasure to meet our customers, both direct and indirect," said Alan Thomson, Aviagen regional commercial and technical manager.
"In particular it was very encouraging to see so many younger people at the show. The strong presence of today's youth was an encouraging indicator of an interest in our industry and the rewarding careers it can offer."