Aviagen Invests in Australian Poultry Market
AUSTRALIA - Aviagen®, the world leader in poultry genetics completed a series of investments by opening a new state-of-the-art hatchery on April 25th in Goulburn, New South Wales, Australia. The new hatchery is part of a $35 million upgrade to company's facilities over the past 2 years. This level of investment demonstrates Aviagen's confidence in the future potential of the Australian poultry industry.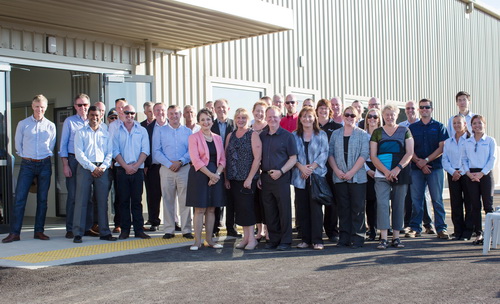 Group at the Aviagen hatchery opening
The new hatchery will have a hatching capacity of 6.5 million chicks per year, enabling Aviagen to satisfy the market's current needs and keep pace with a growing demand for the Ross® 308 in the region.
Aviagen Australia has a history of success by investing in the rural community and training local people to fill the good quality jobs that will be provided by the expansion. Twenty-eight new jobs will be created in the hatchery and will add to the 30 positions already created in the breeding complex located 20 kilometers outside of Goulburn.
The 2 senior managers in the hatchery are fully experienced and are currently working in the company's leased facilities in Maldon, NSW. This experience brings familiarity and consistency with the existing operating procedures as the change over to the new hatchery takes place and provides the ability to train in coming staff quickly and efficiently to fill the positions in the team.
The new modern hatchery embodies the latest advances in hatchery design and technology and incorporates features to enhance biosecurity and improve chick quality. One innovation is a live embryo detection unit to ensure that only living embryos are transferred into the hatchers, significantly reducing the risk of contamination and protecting the health of chicks during the hatching period. The installation of special flooring surfaces through the hatchery allows thorough washing and sanitation to be implemented and enhance the overall hygiene and chick quality standards.
The inauguration of the new hatchery coincides with the 60th anniversary of the Ross brand in the global poultry market. The current product being supplied to local customers is the Ross 308 which offers excellent feed conversion and meat yield to allow customers to utilize the product's efficiency and cost advantages. These advantages in performance and profitability have generated customer support and recognition as the leading broiler breeder in the domestic market.
Aviagen has been supplying breeding stock to companies in Australia since 1991 and through this major investment demonstrates its dedication to providing customers with the highest quality, biosecure and locally produced breeding stock to meet the industry's business and performance requirements. As the leading supplier of breeding stock, Aviagen Australia is aware of its uniqueness in the industry it serves and concentrates its energy on a single goal of supplying stock that allows customers to achieve superior results.
"We are pleased to have Pru Goward, the New South Wales Member for Goulburn here to open this important new phase of our development plan for Aviagen Australia. It is an important step in our long-term drive to provide the best-quality products to our customers," said Michael Leahy, managing director, Aviagen Australia. "Our ongoing investment in innovation and continuous product performance improvements, along with the expansion of our operations and facilities, has proven to be the best path for meeting the current and future needs of customers and consumers in Australia and beyond."