"Cleanliness is Key" - Preventing Diseases Transmitted by Humans
GLOBAL - Health and hygiene are the backbone of every successful poultry business.
As part of a wider biosecurity procedure, best practice therefore means creating hygienic conditions within a poultry house to minimise the adverse effects of disease and optimise bird performance and that includes ensuring disease transmission by humans is prevented.
It is imperative from a safety, security and biosecurity viewpoint that any unauthorised access to the farm is prevented. Fencing of the farm perimeter and posting 'no entry' signs will help deter unauthorised personnel from making their way on to the farm.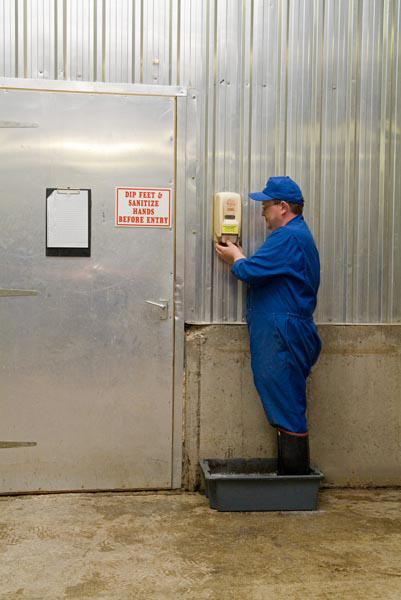 Once on the farm, human cleanliness is the most effective way of preventing diseases transmitted by humans. Those entering the farm should shower and change their clothing. Hand and boot sanitation should be done both when entering and leaving individual houses.
A record of all visitors including name, company, purpose of visit, previous farm visited, and next farm to be visited must be maintained.
Cleanliness is also important when it comes to equipment. Equipment brought on to the farm should be minimised and appropriately cleaned and disinfected.
Finally, it is recommended that visitors visit only one farm a day and, if that is not possible, the youngest flock must be visited first. If a serious problem such as avian influenza (AI) is suspected, all visits should be immediately stopped.
Put simply, when preventing diseases transmitted by humans, cleanliness is key!
By Aviagen® Technical Transfer Team