Fortune Taiwan Makes Smart Investment for the Future of Taiwan's Poultry Industry
TAIWAN - Fortune Taiwan, a distributor of Lohmann and Ross breeds, is embarking on a major development phase that will consolidate its position as a leading innovator and pioneer in Taiwan's poultry sector.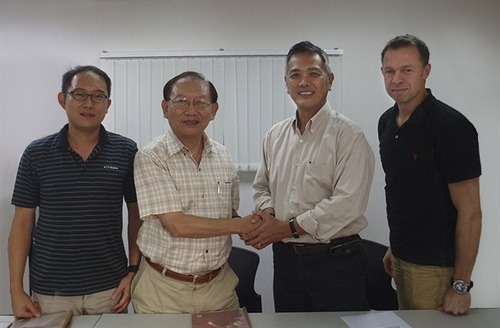 Backed by founder and President, Mr Chuang An-Hung, the company is investing in SmartPro™ single-stage incubation from Pas Reform, to support the expansion of its GPS and PS hatcheries.
With plans to set the first hatching eggs in September this year, the new installation includes 21 SmartSetPro™ setters with corresponding SmartHatchPro™ hatchers, to deliver 25,000 broiler parentstock chicks and 50,000 commercial layer chicks at the company's hatcheries each week.
Pas Reform's single source, 'total solution' for Fortune Taiwan also includes ventilation and climate control, with hatchery automation systems such as candling, transfer and setter trays as well as hatcher basket washing systems.
Fortune Taiwan Director, Mr Sutthi Chuang, noted the rapid changes that have been occurring in Taiwan's poultry industry in recent years, as he commented on the new partnership: "Driving innovation and standards for commercial poultry production in Taiwan is a firm focus for us, but also as a model of information and knowledge exchange, to support and protect the long-term future of poultry in Taiwan.
"We are excited to be starting the next phase of our development with Pas Reform. As a company that can support our people not only with the latest innovations but also with training and specialist knowledge, we believe we can build a great partnership."
Dr.Tan, sales director of Pas Reform Asia, concludes, "The experience and bold leadership of Fortune Taiwan's senior team have created and grown a thriving and successful business, founded on quality at every level of their operations.
"It is a privilege to work on this project, which will be the first for Pas Reform in Taiwan and an outstanding debut for our new agent here, Chang Jhen Corporation, which has supported its development from the start. Together, we look forward to supporting Fortune Taiwan's ambitions for their own future as well as that of Taiwan's growing poultry industry."
Picture L-R: Mr Sutthi Chuang (Director Fortune Taiwan), Mr Chuang An-Hung (President Fortune Taiwan), Dr Tan Ee Seng (Sales Director Pas Reform) and Mr Eddy Gunsing (Project manager Pas Reform)