Arbor Acres, KGB Hold Successful Seminar in South Korea
SOUTH KOREA - Arbor Acres® and KGB (Korea Grandparent Breeder) hosted a successful seminar in Boryeong, South Korea, the company's first seminar in Korea. It featured a series of management presentations and was opened by Mr. Lee Su-Beom, managing director of KGB who welcomed more than 120 participants from the local poultry industry.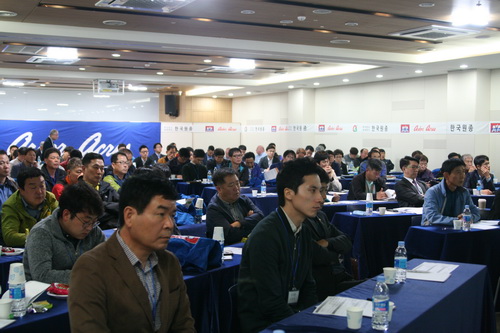 The program commenced with an Arbor Acres® video entitled "Raising Industry Standards" which traces the origin, innovations and successes along with the recent live performance of Arbor Acres birds as they compete in the global market. Marc Baribault, vice president of Arbor Acres, then addressed the group with Arbor Acres performance benchmarks showing results from independent testing facilities and customers in Asia, as well the Middle East and Africa regions.
The management focus continued with Arbor Acres technical manager Debbie Fisher emphasizing the importance of getting chicks off to a good start in "Brooding, The First 48 Hours" and how good brooding practices will lead to healthy development of chick immune and cardiovascular systems and contribute overall performance. Her step-by-step guide on correct brooding illustrated the best options for overcoming the challenges present in the field. Stan Keimer, Arbor Acres technical manager, explained how the Arbor Acres bird has evolved and how a manager must be aware of the genetic improvements and manage the bird accordingly in the "Genetic Facts of Life." He used the present growth profile and evaluated uniformity and the bird's condition for light stimulation. He closed by offering suggestions for potential issues commonly faced by poultry producers.
"The Important Female Management Points for Good Persistent Production" was covered by Rod Konrad, Arbor Acres technical manager, with an in-depth review of the key factors maintaining good production and hatchability. Bird confirmation, fat cover, pin bone spread, nutritional recommendations, egg mass and effective feed management were supported with excellent visuals during the session.
The closing presentation was delivered by Aviagen veterinarian Dr. Keat Fu on "Metabolic Diseases in Lay," which outlined the disease challenges in Korea and the global poultry industry. He spoke about the factors that contribute to lay mortality, and his presentation initiated positive feedback from customers in the audience.
Comments received from attendees were positive, "another successful story of great support from Arbor Acres…a full and informative day that was appreciated by all attending…our first experience with a seminar of this calibre, unifying both internal and external businesses in the industry."
Mr. Baribault conveyed the Arbor Acres team comments: "A job well planned, well-orchestrated, and well received. This seminar was a perfect example of KGB and Arbor Acres working together toward improving performance in Korean poultry industry for today and into the future. We are grateful for the support of the KGB team, particularly Mr. Lee Su-Beom, Dr. Kim Jong-Taik, Mr. Kim Kang-Hueng, Mr. Seong Il-Mo and Mr. Yoon Jae-Seong for their combined efforts in making the day a real success."