Aviagen Explores New Horizons in Broiler Breeder Management in Iran
IRAN - Aviagen® recently explored the latest Parent Stock (PS) management information with customers in Iran at a New Horizons in Broiler Breeder Management seminar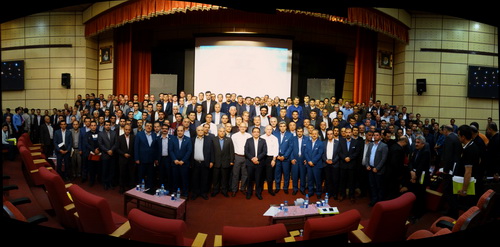 The one-day event was organized by Zarbal GP Company, the exclusive Ross® 308 distributor in Iran and was attended by over 300 delegates. Zarbal has been a Ross Grand Parent (GP) distributor for over 22 years and is one of the top-performing distributors in the Middle East and Africa (MEA) region.
Presentations were given by Ross MEA Technical Manager Robert Haggarty on body weight profile and male management and Aviagen Nutritionist Leonardo Linares on factors affecting male and female fertility.
"Our customers are asking more and more for educational seminars and the feedback from this event has proven this one to be a resounding success," said Dr. Ali Baghbanzadeh, MD of Zarbal. He added: "We will continue to organize topical seminars for our customers in addition to the support provided by our highly-skilled and respected local customer focus team."
Robert Haggarty commented, "The seminar was excellent, with a large attendance from customers from the Iranian poultry market. Seminars like these offer an important opportunity to share the latest information and knowledge with our customers, especially in the areas of management, nutrition, veterinary science and research and development. The feedback from customers was very positive and they are looking forward to our next seminar already."
For further information about Aviagen and Ross visit aviagen.com.