Aviagen Internal School Focuses on Delivering Effective Solutions for Customers
UK - Aviagen® welcomed a group of its service representatives from across the globe to Edinburgh for its fourth annual Internal School this month.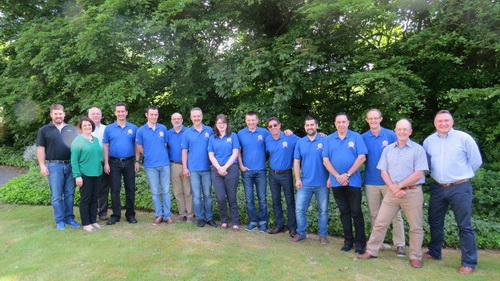 The week-long school offered skills and tools to deliver effective solutions for customers through a blend of presentations, production data analysis and interactive sessions on a range of topics. Aviagen and external experts from HR, finance, nutrition and veterinary science were joined by customer service representatives from across the globe who shared their practical knowledge and experience.
Aviagen CEO Jan Henriksen attended the school and delivered a presentation on the importance of offering quality service to Aviagen customers worldwide.
Michael Longley, school director, said, "Internal schools are a vital part of our ongoing professional training. We regularly host schools for customers to get the most from our products; it is just as important to ensure we are providing those customers with the best possible service. Therefore, internal schools are an investment in our people as well as our customers."
At the end of the module students had the chance to implement the skills acquired during the week by preparing a short presentation and written report to a fictitious customer's board of directors. This exercise allowed students to refine their presentation skills and put into practice the research techniques they learned.
"The use of case studies at the School is worthwhile especially when we are working in multi-disciplinary teams," said Bernard Green, technical service manager for Aviagen Asia. "Not only do we get to meet our global colleagues at this School but we learn about their processes when we work as a team to solve problems."
"The school is a great way to ensure we are delivering the highest possible customer service," said José Bruzual, regional technical manager for Aviagen Latin America. "It also equips us with the tools to analyze customer data and present it confidently to them, creating a win-win situation for us all."
Longley added, "This school is designed to provide our customer service managers with an understanding of critical issues and further skills to ensure effective service to our customer base."
For further information about Aviagen and upcoming events and schools visit www.aviagen.com.