Growket Launched as a New Livestock Equipment Company within Symaga Group
SPAIN - The new brand from Symaga Group, Growket, was launched last week has been by Alfonso Garrido, president of the group. Symaga was founded in 1985 by Alfonso Garrido for manufacturing silos and livestock equipment.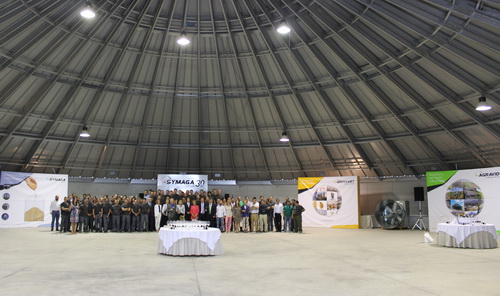 It is currently a multi-national Spanish company owned by Garrido family, exporting more than 90 per cent of the production and is present in more than 120 countries.
Symaga divided its portfolio into several business lines until 2016: industrial silos, agriculture equipment and livestock equipment (poultry, porcine and ovine). Symaga Group invested huge productive and human resources in order to entitle these divisions as corporative units.
Symaga remains the brand for manufacturing and marketing of industrial silos, but Growket is now the brand name for livestock equipment; and Agravid for metal water tanks and vineyard equipment.
Growket is born inside Symaga Group, which strengthened its business structure after a huge process of investment. Symaga Group has set up a production facility with the latest technology, and has expanded the technical and commercial department. These measures will enhance and professionalise the livestock division to offer a global service in farm silo, poultry, porcine and ovine equipment.
Symaga Group ensures the optimal execution of any project. Backed by an experience of more than 30 years in industrial silo sector, the company has exceeded 6,000 installations in five continents.
The founder began its trajectory in livestock sector. Historically Symaga has worked in different livestock projects, now the aim is to become a worldwide leader in the manufacturing and marketing of poultry, porcine and ovine equipment.