Madi's New Breeder Farm 'on Show' in Bosnia Herzegovina
BOSNIA AND HERZEGOVINA - More than 70 broiler growers and other prominent industry figures attended an open day at the newly built breeder farm of Madi, one of Bosnia's fastest growing poultry companies.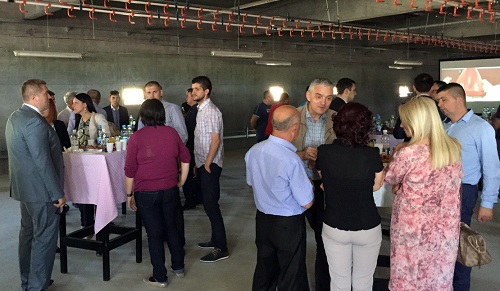 This is the biggest breeder farm built in the region of former Yugoslavia in the past 20 years. With the support of their major suppliers Cobb Germany and VDL Agrotech, represented by local distributors Iradia, the event was organised at Madi's headquarters in Tesanj, Bosnia.
Madi's executive director and co-owner, Edin Jabandzic, opened the event and spoke of the company's recent developments.
James Truscott, director of Cobb Germany, said their company's dedication to customer care and top quality technical support helps customers achieve the most from Cobb breed. "In these new houses Madi will be able to reap the full benefits of the Cobb advance in genetics even more as the genetic pipeline ensures that stock for Europe is bred in Europe — giving customers substantial performance benefits," he said.
The event included a technical presentation by Dr Ermin Grbic, from Iradia, followed by Dr Ron Meijerhof, on behalf of Cobb Germany, who addressed the issue of the '10 golden days' crucial for good broiler growing, as well as the ventilation challenges that are important for every poultry farm.
Kevin Michellyes, area sales manager of VDL Agrotech, who supplied Madi with the turnkey project, closed the official program which was followed by a visit to the new farm and a reception.