Nicolas Lecuit joins Hubbard as Sales Manager for France and Switzerland
FRANCE - Hubbard is very pleased to announce the appointment of Nicolas Lecuit as Sales Manager for France and Switzerland. He will report to Bruno Briand, Hubbard EMEA Sales Director, and will be based in Angers.
Nicolas has spent more than 20 years in the French poultry industry in several positions and in several companies.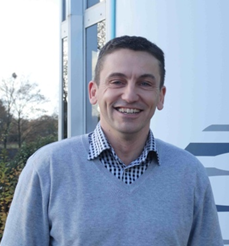 Nicolas joined Hubbard in December 2015, and after following an extensive introduction program he has progressively taken up the commercial responsibilities for France and Switzerland.
Hubbard recently initiated a new commercial organisation in the EMEA region under the leadership of Bruno Briand who confirms, "We are very happy to welcome Nicolas Lecuit as one of our key players in our sales force. This will help us to continue to strengthen our current position and look for further growth in the near future".
For more information please contact:
[email protected]