Aviagen Celebrates 60 Years of Ross and Raises over £45,000 for Charity
GLOBAL - UK and European Poultry Industry Benefit Children's Charity with Tour de Ross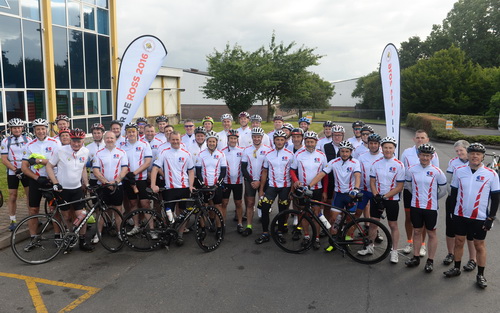 Representatives of the UK and European poultry industry have raised over £45,000 for the Honeypot Children's Charity through a 500-mile (800 km) charity cycling event known as "Tour de Ross," which was organized by Aviagen®.
Over 70 cyclists from countries including the UK, Ireland, Italy, France, Belgium, the Netherlands and Hungary took part in the Tour de Ross 2016, created to help celebrate 60 years of Aviagen's Ross® brand with customers and industry colleagues while supporting a worthwhile cause.
Taking place over six days between June 27 and July 2, the Tour de Ross consisted of a route designed to stop at the locations of each of Aviagen's UK customers: Annyalla, Cargill, PD Hook, Faccenda, Banham, Crown and Moy Park as well as the Aviagen base at Stratford.
Graeme Dear, Aviagen UK Limited general manager, who was one of the 27 riders to complete the full 500-mile route, said, "It gives us enormous pride to know that we have surpassed our target of raising £30,000 for the Honeypot Children's Charity and we'd like to thank everyone who participated or helped plan and stage the event. The generosity and hospitality from all who have contributed has been overwhelming. It was important for us to mark 60 years of Ross by giving to a charity close to our hearts and demonstrate that Aviagen cares about our vulnerable youth. The Honeypot Children's Charity was chosen as the sole beneficiary of the Tour de Ross after we became inspired by its aim to change the lives for children who find themselves in the role of a carer at home. To be able to benefit them with the involvement and support of the UK and European chicken industry, who have been a key part of the Ross story, was just magnificent."
Rawle Beckles, Director of Fundraising at the Honeypot Children's Charity commented, "We were delighted to see so many people take part in the Tour de Ross bike ride. The enthusiasm of all the cyclists was fantastic to witness!"
"On behalf of the Honeypot Children's Charity, I would like to thank everyone for their outstanding efforts. Their generous support will make a real difference to the young carers and vulnerable children who come to stay with us for respite breaks and on-going outreach support."
Paul Pattison from Hooks2Sisters, a full-route rider, added, "The Tour de Ross was fantastic from start to finish and something I will cherish and remember for many years to come."
You still have an opportunity to make donations to the Honeypot Children's Charity by visiting the Tour de Ross fundraising page until July 31: www.justgiving.com/tourdeross. You may help us get over the £50,000 mark!