CME: US Chick Placements Falling
US - Chicken hatchery output has been retreating in recent weeks, write Steve Meyer and Len Steiner.
According to the weekly hatchery report issued by USDANASS each Wednesday, chick placements from hatcheries to grow-out farms were less than a year ago by 1 per cent during the latest reported week (July 9).
Chick placements have fallen short of a year ago in 6 of the last 10 weeks. Meat-type (broiler) chicken slaughter during the last month has run close to a year earlier, slightly higher than might be expected based on earlier hatchery output levels.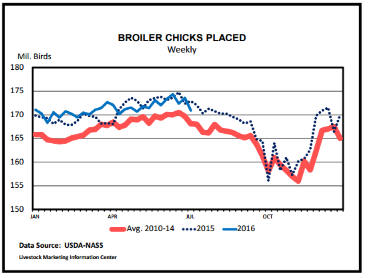 The two weeks of slaughter around the Fourth of July holiday were close to unchanged when compared to the same weeks in 2015. This compares to a 3 per cent increase in slaughter that occurred during the two week period bounding Memorial Day relative to a year ago.
Given the trends in hatchery output during late May and June, slaughter during July should hold close to 2015's.
A developing situation that bears watching is a trend towards lighter average bird weights at time of processing.
Chicken weights for the week ending July 9 fell below 6 pounds per bird for the first time this year. Compared to a year ago, birds were two-thirds of a per cent lighter.
A continuation of this trend, along with slaughter that might not be much different from a year ago could pull total chicken production this summer down slightly from the summer of 2015.
The current LMIC summer quarter chicken production forecast shows an increase of slightly less than 1 per cent. Average bird weights during the first half of 2016 were up slightly more than 1 per cent.
A decline in production could help to pull down burdensome cold storage inventories. At the end of May, frozen chicken inventories were up 9 per cent from a year earlier.
A dominating factor underlying the large inventories is an 86 per cent increase in frozen wings.
Consequently, wholesale chicken wing prices have fallen to the lowest values since the summer of 2014. Frozen chicken inventories at the end of the summer are projected to be back to unchanged from a year earlier, and a decline in production could enable a bigger adjustment in cold storage holdings.