Arbor Acres South Africa Celebrates 10 years as Arbor Acres Distributor
GLOBAL - Arbor Acres® South Africa (AASA) celebrated 10 years as an Arbor Acres distributor by hosting key customers at a dinner in Boksburg on June 2.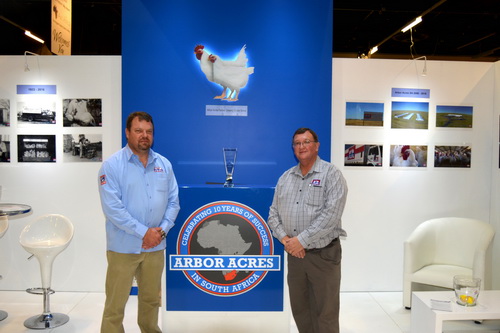 Customers from South Africa, as well as Mozambique and Swaziland, gathered to recognize a successful 10 years of sales and service of Arbor Acres in the market. Senior Aviagen® team members attending the event included Michael Garden, Aviagen business manager for the Middle East and Africa, and Robert Roszkopf, senior operations manager for Aviagen South Africa.
Aviagen presented AASA personnel with engraved awards in appreciation and commemoration of AASA's ongoing support and success with the Arbor Acres brand. The event was organized to coincide with the AVI Africa 2016 trade show, where the AASA stand proved popular with key customers from the South African poultry industry and visitors from neighboring countries.
Arno van der Nat, general manager of AASA, said, "Reaching a decade as distributor for Arbor Acres in South Africa is a fantastic achievement. We were thrilled to be joined by our key customers and representatives from Aviagen for the celebrations and to be able to thank them for their ongoing support."
Robert Roszkopf added: "Since the introduction of Arbor Acres to the South African market 10 years ago, the brand's share has risen to around 20 percent of the market. It was our pleasure to attend this event and we thank AASA for being a committed distributor and for their ongoing and enthusiastic promotion of the Arbor Acres brand."