Aviagen Appoints New Technical Service Manager for Middle East and Africa
GLOBAL - Aviagen® has appointed Murat Yakar as technical service manager for its Middle East and Africa (MEA) team. Based in Turkey, Murat will be responsible for providing support to Ross® customers across the MEA region.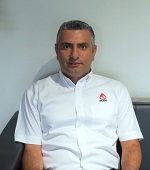 Murat joins Aviagen from Banvit A.S, one of the largest integrators in Turkey and an Aviagen Anadolu Ross customer, where he gained considerable experience in broiler and breeder management, hatcheries and lab diagnostics. He most recently held the position of livestock production manager.
"I can't wait to start working with the Aviagen team. I love to meet new people and discover the world so I'm particularly excited about the local and global reach that the job can offer me," said Murat. "I'm also looking forward to learning more about Ross from my new colleagues as the level of expertise in the team is exceptionally high."
"Murat brings considerable experience to the position, in a number of key areas. He will begin his new role in autumn 2016, following his induction period, and we look forward to welcoming him to the Aviagen family," added Robert Haggerty, senior technical manager, Ross MEA.