Bird Flu H5N1 Strain Continues to Spread in Ghana
GHANA - Three new outbreaks of H5N1 strain highly pathogenic avian influenza have been reported in Ghana.
The outbreaks were from July, but have only recently been reported to the World Organisation for Animal Health (OIE).
Two of the outbreaks were in Greater Accra, and one was in the Central region. All of the outbreaks affected backyard birds, mainly layers of different ages but also some exotic birds.
There were over one thousand deaths and a further thousand birds were destroyed to prevent the disease spreading.
In a speech at the end of July, Ghana's Deputy Minister of Food and Agriculture Hannah Bissiw praised the poultry industry for its resilience, and especially poultry farmers that are working hard to keep the disease out.
"As a country, we need to work together to stop the introduction and spread of the disease," local news website GhanaWeb reported her as saying.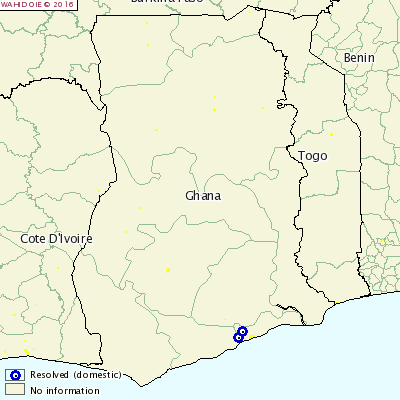 Further Reading
You can visit the avian flu page by clicking here.